La politica estera dell'Italia. Edizione 2011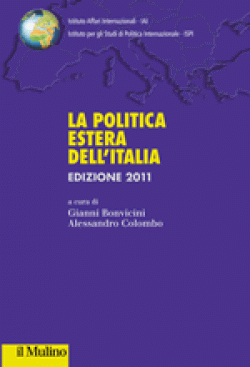 On the 150th anniversary of the unification of Italy, Italian foreign policy is seeking a new balance between commitments in the multilateral context, above all to the European Union, the Atlantic Alliance and the United Nations, and developing closer relations with a network of countries from Mediterranean neighbours to Russia, Brazil and China. The 2011 edition of the IAI-ISPI yearbook La politica estera dell'Italia [Italy's foreign policy] takes a look at this effort to adapt, underlining the persistent and perhaps even growing difficulties: the crisis of multilateralism; the uncertainties in the European Union; the underlying tension between bilateral drives and cooperation with traditional partners; domestic political and institutional weaknesses; the chronic lack of resources and instruments dedicated to Italy's international projection. The volume is divided into three parts: an introductory report (available in English) summarising and assessing Italian foreign policy as a whole and pointing out three main paths for the future; sectorial chapters offering detailed analyses of the subjects and regions of greatest strategic interest to Italy; two chronologies, one on Italian foreign policy and the other on the main international events in 2010.
Presentations: Rome 10 March 2011, Turin 16 May 2011, Naples 1° June 2011, Rome 10 June 2011, Florence 28 June 2011.

cronologia_2010.pdf
Details

Bologna, Il Mulino, April 2011, 224 p.

ISBN/ISSN/DOI:

978-88-15-15024-0
Abbreviazioni

Parte prima: Rapporto introduttivo
L'Italia e la trasformazione dello scenario internazionale fra rischi di marginalizzazione e nuove responsabilità
di Gianni Bonvicini, Andrea Carati, Alessandro Colombo, Raffaello Matarazzo, Stefano Silvestri
1. La politica estera italiana. Alcune costanti storiche
2. I nuovi fattori di debolezza
3. Bilateralismo e multilateralismo verso un nuovo equilibrio
4. La crescita del bilateralismo
5. Forme e strumenti della proiezione internazionale dell'Italia
6. Conclusioni

Parte seconda: Capitoli settoriali
1. L'evoluzione della governance economica e della vigilanza finanziaria europea, di Paolo Guerrieri e Franco Bruni
2. Verso una difficile riforma del sistema multilaterale, di Nicoletta Pirozzi e Federico Niglia
3. Le attività nel campo della sicurezza e difesa, di Alessandro Marrone, Federica Di Camillo, Valerio Briani, Alessandro R. Ungaro
4. Un anno non facile nell'Unione europea, di Antonio Villafranca, Raffaello Matarazzo, Michele Comelli
5. I rapporti con Washington, di Riccardo Alcaro e Emiliano Alessandri
6. Il persistente impegno nei Balcani, di Serena Giusti
7. La Russia, il Caucaso e le questioni energetiche, di Tomislava Penkova, Carlo Frappi, Aldo Ferrari
8. Mediterraneo, Medio Oriente e Nord Africa, di Silvia Colombo, Nathalie Tocci, Riccardo Alcaro, Arturo Varvelli, Valeria Talbot
9. Il rinnovato interesse per l'America Latina, di Antonella Mori
10. Alla scoperta della Cina e dell'India, di Francesco Montessoro e Domenico Amirante
11. Interessi commerciali e lotta al terrorismo nell'Africa subsahariana, di Giampaolo Calchi Novati e Lia Quartapelle
12. Il contrastato dossier sulle migrazioni, di Bruno Nascimbene e Alessia Di Pascale

Cronologia della politica estera italiana, gennaio-dicembre 2010

, a cura di Alessandra Bertino
Cronologia dei principali eventi europei e internazionali, gennaio-dicembre 2010, a cura di Alessandra Briganti e Matteo Villa

Indice dei nomi
Indice dei nomi geografici
Notizie sugli autori