Gianni Bonvicini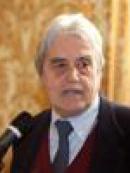 Position
President, Board of Trustees
Biography
Gianni Bonvicini, expert in European issues and foreign policy, was born in Trento in 1943 and graduated in Political Science from the University of Florence in 1969. He is currently Chairman of the Board of Trustees and Scientific Advisor of the Istituto Affari Internazionali (IAI), of which formerly he was Director (1987–2008) and Executive Vice President (2008–2017). He is a columnist for various scientific publications, professional journals and newspapers.
He is a member of several cultural and research associations (among which: Chairman, Scientific Committee, Centro per la Cooperazione Internazionale (CCI), Trento (since 2018); Steering Committee, Comparative, European and International Legal Studies (CEILS), Law Faculty, Trento University; Advisory Board, School of International Studies, Trento University; the Trans European Policy Studies Association (TEPSA), Brussels; Scientific Committee of the Bruno Visentini Foundation, Rome) in Italy and abroad. In 2010, he received the title of Commendatore, Ordine al Merito della Repubblica Italiana, for his services to his country; in 2013 Honorary Membership, European Journalist Association; in 2001 Honour, Aquila di Venceslao, Trento Province.
Posts held during his career include President of the Trento Cultural Institute (today Bruno Kessler Foundation); member of the Special Commission on Universities and Scientific Research of the Municipality of Trento, the Steering Committee of the Trento Development Agency, the Board of the University of Trento; consultant to the Research Department of the Trentino Alto Adige Regional Government and the Trento Provincial Government; drafter of the foreign policy platform of the Ulivo coalition and advisor on Europe to former Prime Minister Romano Prodi (1995–96); chairman of the International Advisory Board of The International Spectator (2007–2018); member of the Reflection Group on EU policies, Under Secretary of State Sandro Gozi (2014–2018).
In his academic career he was, among other training and seminar's activities, Visiting Professor in International relations at the Johns Hopkins University, Bologna Center (1981–2000); and Visiting Professor at the Faculty of Political Science at Roma Tre University (2011–2014).