Alessandro Marrone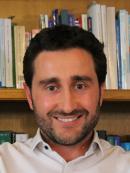 Position
Head of Defence Programme; Documenti IAI editor
Biography
Alessandro Marrone is Head of IAI Defence Programme. He has been working at IAI since 2007, and currently manages research projects and publications related to European and transatlantic security as well as to Italy's defence policy. He is also professor at the Istituto Superiore di Stato Maggiore Interforze (ISSMI) of the Italian Ministry of Defence and has been teaching for four years at the University of Perugia.
He holds a PhD in History of Europe from the La Sapienza University of Rome and a Master of Science (MSc) in International Relations at the London School of Economics and Political Science (LSE). Previously he got a Bachelor degree in Political Science and MSc in International Relations from the LUISS Guido Carli.
He is a member of the Editorial Board of IAI web-magazine AffarInternazionali and collaborates with several Italian magazines including Airpress, Aspenia, Eastwest, Formiche, Huffington Post, Rivista Italiana Difesa and Rivista marittima. He frequently appears on national television, radio and newspapers in relation to the Russian invasion of Ukraine and other international security issues.
He is interested in armed conflicts, European defence, NATO, Italian defence and foreign policy, defence industry and market, space, security in the Mediterranean region.