Art and Politics. The Streets of Rome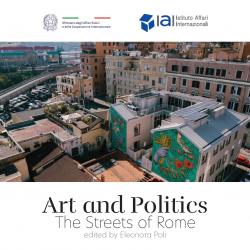 An era in which images, rather than words, are used as vehicles of messages and ideas, street art, which was conceived as a form of protest in the 1960s, is the art form that most is most effective in expressing complex content immediately, becoming a workshop for teaching people not only about contemporary culture but also about politics. The ebook and documentaries, 'Art and Politics: The Streets of Rome', produced in collaboration with the Istituto Affari Internazionali, aim to contextualize the message of Italian street art within a broader political analysis, investigating four major themes: street art and democracy, street art and climate change, street art and gender, street art and identity.

art_and_politics.pdf
Details

Rome, Ministry of Foreign Affairs and International Cooperation and Istituto Affari Internazionali (IAI), 2021, 66 p.
Preface / Prefazione, di Lorenzo Angeloni, p. 5-8
Introduction / Introduzione, p. 9-14
Democracy and Freedom / Democrazia e libertà, di Nathalie Tocci (Manu Invisible), p. 15-20
Knowledge and Democracy / Conoscenza e democrazia, di Pier Domenico Tortola (Solo), p. 21-26
Gender and Economics / Genere e economia, di Fabrizio Botti (Solo), p. 27-32
Gender and Democracy / Genere e democrazia, di Irene Fellin (Alice Pasquini), p. 33-38
Climate Change and Politics / Cambiamento climatico e politica, di Luca Franza (Jena Cruz), p. 39-44
Social Movements and Climate Change / Movimenti sociali e cambiamento climatico, di Eleonora Poli (Jerico), p. 45-50
Politics and Identity / Politica e identità, di Nicoletta Pirozzi (Diamond), p. 51-56
LGBT Rights and Economic Development / I diritti LGBT e lo sviluppo economico, di Carlo D'Ippoliti (JDL), p. 57-62
Conclusions / Conclusioni, di Ferdinardo Nelli Feroci, p. 63-66