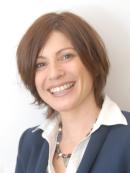 Irene Fellin is senior researcher on gender and security issues at the Istituto Affari Internazionali (IAI), where she mainly works on research projects dealing with the implementation of United Nations Security Council Resolution 1325 (2000) on "Women, Peace and Security" in the Mediterranean area, in the framework of NATO, OSCE and the UN. She is currently working as project coordinator on the establishment of a Mediterranean Women Mediators Network, while at the same time she works on education and training programs about the "Women, Peace and Security" agenda. She holds a Master in "Women's Rights and Gender Issues" from the Middle East Technical University (METU) in Ankara. Prior of joining IAI, she worked as Gender Advisor of the Special Representative of NATO Secretary General for "Women, Peace and Security" and as a consultant at UNDP and UNICEF in Ankara. She is founder and President of the Italian antenna of WIIS – Women in International Security.

Irene Fellin
Rome, IAI, September 2018, 38 p.

Riccardo Alcaro,
Roma, Senato, October 2017, 35 p.
In:
Reports for Parliament
Irene Fellin
Roma, IAI, November 2015, 26 p.