Population movements taking place in past decades, including those reaching the European Union, defy straightforward and simplistic conceptions of drivers, trajectories and forms of migration. Approaching migration journeys as non-linear...
Luca Barana, Colleen Boland, Silvia Colombo, Flavia Fusco, Daniela Huber, Daniel Morente, Asli Selin Okyay, Jacopo Resti, Elena Sánchez-Montijano
view
Spotlight
As tensions are rising once more in Iraq, this webinar sheds light onto practices in Iraq and its neighboring region which are working towards a direction of reconciliation and inter-regional dialogue. In particular, we will discuss first steps...

With the withdrawal of NATO forces from Afghanistan, the continuation of overlapping security and socio-economic challenges across much of the Middle East and North Africa and the Russian invasion of Ukraine, foreign policy cooperation between the...

This volume examines the multidimensional relationship between climate change and security across Mediterranean Basin states and societies, underscoring the key social, political and economic challenges of the present climate emergency and outlining...
Publications
Afaf Zarkik

Rome, IAI, September 2023, 22 p.

In: Documenti IAI 23|20

leggi tutto

Miriam Zenobio

Rome, IAI, September 2023, 7 p.

In: Documenti IAI 23|18

leggi tutto

Global Politics and Security

31/08/2023

Asli Selin Okyay, Luca Barana, Colleen Boland

Bern [etc.], Peter Lang, 2023, 339 p. : ill.

In: Global Politics and Security 10

leggi tutto
Research
The war in Ukraine, the energy crisis, and several initiatives to reshape regional and international partnerships and alliances have made the...

leggi tutto

BRIDGES aims to understand migration narratives in a context of increasing politicisation and polarisation by focusing on six European countries:...

leggi tutto

The Middle East continues to face overlapping challenges spanning both the domestic and regional/international layers. Located at the centre of...

leggi tutto
Events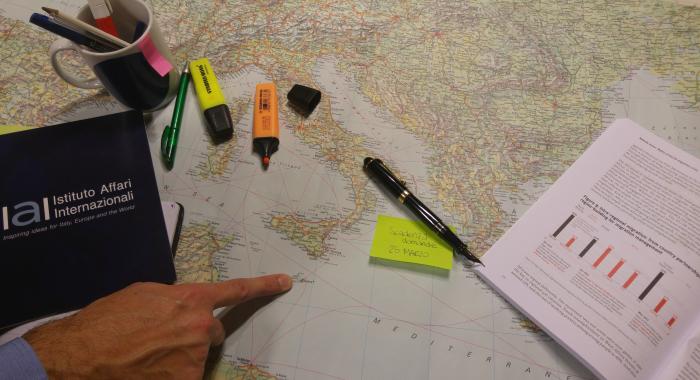 Hybrid training course
Roma
IAI in the media
Cnn - Tocci: The challenges of reviving the Iran Deal - min. 03:50

Valdai - Dessì: Donald Trump's Weaponization of Sanctions Undermines Diplomacy, US Alliances and the Stabilization of the Middle East

Lobe Log - Dessì: Can Europe Salvage a Future for the JCPOA?
Experts
Associate fellow

Scientific advisor

Senior fellow