PESCO: An Ace in the Hand for European Defence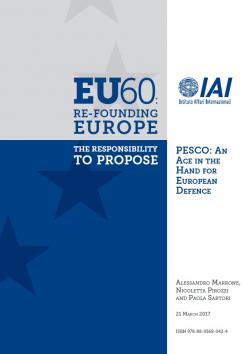 The gap between the quest for security of European citizens and resources allocated to defence, as well as the need to build a more balanced transatlantic relation with the US are strong arguments in favour of an enhanced integration in the field of defence among EU member states. This is all the more important in view of the impending Brexit as well as the Trump administration's approach to Europe's security, to relations with Russia and the crises in North Africa and Middle East. At the same time, the defence landscape within the EU remains extremely diverse and it is becoming increasingly difficult to reach internal consensus to launch timely and effective interventions outside EU borders, especially high-end military operations. The Permanent Structured Cooperation (PESCO) is a ready-made tool for differentiation enshrined in the Treaties and its implementation would be a game changer leading to deeper integration in the defence field. PESCO is an ace in the hand of EU member states for acquiring and using the military capabilities necessary for a coordinated defence policy, linked to EU institutions and CSDP. If it is not permanent among a core of member states, or if it is not structured through a coherent set of joint capability development projects, or if it does not deliver operational and political cooperation, then it is not PESCO. Only by meeting these requirements will PESCO serve the purpose of establishing a functioning European defence mechanism via differentiated integration.
Paper prepared within the context of "EU60: Re-Founding Europe. The Responsibility to Propose", an initiative launched by the Istituto Affari Internazionali (IAI) and the Italian Ministry of Foreign Affairs and International Cooperation (MAECI), in cooperation with the Centro Studi sul Federalismo (CSF) and in the framework of IAI's strategic partnership with the Compagnia di San Paolo, on the occasion of the 60th Anniversary of the Treaties of Rome.

eu60_9.pdf
Details

Roma, IAI, March 2017, 8 p.

ISBN/ISSN/DOI:

978-88-9368-042-4
1. PESCO's political rationale
2. PESCO in practice: what and how?
3. A roadmap for PESCO