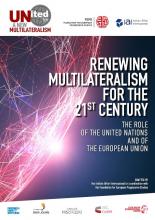 This research paper, which was drafted by the IAI research team working on the reform of the UN and the future of multilateralism in cooperation with FEPS, discusses the key challenges of the global governance system in light of the impact of the COVID-19 epidemic. Published on the eve of the UN General Assembly and on the occasion of the 75th anniversary of the UN, the paper puts forward a comprehensive set of suggestions and proposals covering all sectors of the UN activity as well as its institutions and agencies. It places the emphasis on the role that the European Union can play in promoting new forms of global governance and in advancing a reform agenda aimed at making the UN more efficient, policy consistent and democratic. The paper was produced within the framework of a project directed by FEPS entitled "Renewing Multilateralism for the 21st Century. The Role of the United Nations and of the European Union" which involved high-level decisionmakers, representatives of international organisations, and leading experts and academics.
Presented at the online international conference "UNited for a New, Fair and Inclusive Multilateralism", 18 September 2020.
Details:
Brussels, Foundation for European Progressive Studies (FEPS) & Rome, Istituto Affari Internazionali (IAI), September 2020, 59 p.
Foreword: For a New, Fair and Inclusive Multilateralism / Maria João Rodrigues, p. 6-9
Executive Summary, p. 10-13
The Impact of the Coronavirus on Global Governance / Ferdinando Nelli Feroci, p. 14-19
The UN System for the Protection of Human Rights / Natalino Ronzitti, p. 20-22
The Sustainable Development Goals / Daniele Fattibene, p. 22-26
Gender Equality / Francesca Caruso, p. 26-28
Migration and Asylum / Asli Okyay, p. 28-30
Climate Change and Energy / Margherita Bianchi, Luca Franza, p. 30-33
Digitalisation / Nicola Bilotta, p. 33-37
Trade and Finance / Fabrizio Botti, p. 38-41
Peace and Security: Peacebuilding and Peacekeeping / Nicoletta Pirozzi, p. 41-44
Peace and Security: Non-Proliferation, Arms Control and Disarmament / Federica Dall'Arche, p. 44-46
Reforming the United Nations / Nicoletta Pirozzi, p. 46-50
References, p. 52-57