Per l'Italia quale carro armato dopo l'Ariete?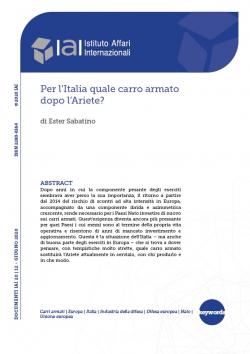 Dopo anni in cui la componente pesante degli eserciti sembrava aver perso la sua importanza, il ritorno a partire dal 2014 del rischio di scontri ad alta intensità in Europa, accompagnato da una componente ibrida e asimmetrica crescente, rende necessario per i Paesi Nato investire di nuovo sui carri armati. Quest'esigenza diventa ancora più pressante per quei Paesi i cui mezzi sono al termine della propria vita operativa e risentono di anni di mancato investimento e aggiornamento. Questa è la situazione dell'Italia – ma anche di buona parte degli eserciti in Europa – che si trova a dover pensare, con tempistiche molto strette, quale carro armato sostituirà l'Ariete attualmente in servizio, con chi produrlo e in che modo.
Report of the meeting "I Main Battle Tank (Mbt) in Europa e le opzioni per l'Italia", held in Rome on 25 May 2020 at the Centro Alti Studi della Difesa (CASD) and organised by the Istituto Affari Internazionali (IAI).

iai2012.pdf
Details

Rome, IAI, June 2020, 9 p.

In:


Issue

20|12
Introduzione
1. Il parco macchine in Europa e quello della Russia
2. Le caratteristiche operative del nuovo carro
3. Prospettive di cooperazione europea
4. Le necessità italiane e le possibili soluzioni