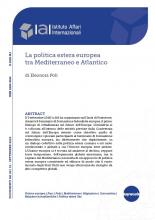 Il 3 settembre 2020 lo IAI ha organizzato sull'isola di Ventotene, durante il Seminario di formazione federalista europea, il primo Dialogo di cittadinanza sul futuro dell'Europa. L'iniziativa si è collocata all'interno delle attività previste dalla Conferenza sul futuro dell'Europa avendo come obiettivo quello di coinvolgere i giovani partecipanti al Seminario di formazione federalista europea, sia direttamente che digitalmente, in un dialogo collettivo sulla politica estera comune e sul ruolo continentale e globale a cui l'Unione europea deve ambire. L'Unione europea si è trovata ad assistere al declino, seppure forse temporaneo, dell'egemonia globale americana, ma la regione del Mediterraneo necessita di un approccio di politica estera europea consistente ed efficace di modo che il vuoto lasciato dagli Stati Uniti non venga ulteriormente riempito da altri competitor globali.
Report of the first of three Citizenship Dialogues on the Future of the European Union, entitled "La politica estera europea tra Mediterraneo e Atlantico" and organised in Ventotene on 3 September 2020 by the Istituto Affari Internazionali (IAI) in collaboration with Luigi Sturzo Institute, Altiero Spinelli Institute for Federalist Studies, the Center for Federalism Studies, European Federalist Movement, European Federalist Youth and European Movement Italy.
Details:
Rome, IAI, September 2020, 8 p.
Introduzione
Sessione I: La politica estera europea nel Mediterraneo
Sessione II: La politica estera europea e le relazioni transatlantiche
Conclusioni
Programma