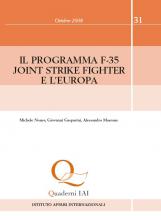 This publication analyses Italy's and other European countries' participation in and purchase of the American multi-role F-35 Joint Strike Fighter (JSF). This is destined to have long-term strategic, operational, economic and industrial effects and a thorough knowledge of the consequences is needed to guide political, military and industrial decisionmaking. The study points out ways to strengthen the European cooperative dimension of the programme, especially that of Italy.
English version: IAI Quaderni English series 16
Details:
Roma, Istituto Affari Internazionali, October 2008, 93 p.
Introduzione

1. F-35 e aeronautiche europee
   1.1 Nuove flotte: expeditionary ed interoperabili
   1.2 Evoluzione dell'Aeronautica Militare e dell'aviazione della Marina Militare

2. Industria della difesa e cooperazioni internazionali

3. L'Italia nel programma F-35
   3.1 Partecipazione italiana alla cooperazione
   3.2 Compatibilità del programma F-35 e programma Eurofighter
   3.3 Innovazione industriale e tecnologica
   3.4 Trasferimento di tecnologie sensibili

4. Stato e prospettive della cooperazione internazionale
   4.1 Mancata "europeizzazione" del programma F-35 e consegunze per l'Europa
   4.2 Possibilità di rafforzare la cooperazione europea

Conclusioni
Appendice: Principali capacità industriali euro-atlantiche nel settore dei velivoli da combattimento
Abbreviazioni