The European Union, Civil Society and Conflict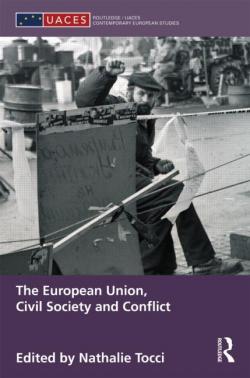 Until recently, the European Union tended to view violent mass conflicts predominantly through the lens of negotiations between conflict leaders and powerful external actors. Today, the EU has begun to recognize the imperative of understanding and influencing developments on the ground in conflict situations by engaging with local civil society. The book explores the EU's relations with civil society organizations at the local level, in an effort to improve the effectiveness and relevance of its conflict and peace strategies. Looking in particular at the eastern and southern neighbourhoods, the volume analyses five case studies of EU and local civil society interaction in: Georgia & Abkhazia, Nagorno-Karabakh, Moldova & Transnistria, Israel & Palestine and Morocco & Western Sahara. Through the comparative examination of these cases, this volume draws broad policy guidelines tailored to governmental and non-governmental action. Exploring the impact of the European Union in conflicts beyond its borders through its engagement with civil society, this book will be of interest to students and scholars of the EU, civil society and conflict.
Output of a three-year project forming part of the research programme Microcon funded by the Sixth Framework Programme of the European Commission.
List of illustrations, p. ix
List of contributors, p. x-xi
Preface, p. xiii-xiv
List of abbreviations, p. xv-xvii

1. The European Union, Civil Society and Conflict: An Analytical Framework, Nathalie Tocci, p. 1-27
2. The EU and Civil Society in the Georgian-Abkhaz Conflict, Nicu Popescu, p. 28-49
3. Are Civil Society Organizations the Missing Link? Assessing EU Engagement in the Nagorno-Karabakh Conflict, Licínia Simão, p. 50-74
4. The EU and Moldova's Third Sector: Partners in Solving the Transnistrian Conflict?, George Dura, p. 75-95
5. Coming too Late? The EU's Mixed Approaches to Transforming the Israeli-Palestinian Conflict Through Civil Society, Benoit Challand, p. 96-125
6. The EU, Civil Society and Conflict Transformation in Western Sahara: The Failure of Disengagement, Hakim Darbouche and Silvia Colombo, p. 126-146
7. The EU, Civil Society and Conflict: A Comparative Analysis, Nathalie Tocci and Nona Mikhelidze, p. 147-164

Bibliography, p. 165-178
Index, p. 179-185