Empowering Africa. Access to power in the African continent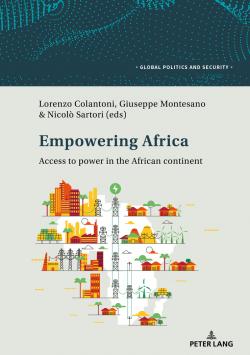 Access to electricity is a key factor for the future of the African continent. Energy poverty and lack of universal access to electricity services are, in fact, significantly hurting human progress in Africa. Today, sub-Saharan Africa hosts 14 percent of the world's population but 60 percent of people without access to electricity globally reside in sub-Saharan Africa: as of 2016, of the more than 1 billion people globally who had no access to electricity, around 600 million lived in the region. In these conditions, many African countries are unable to develop a solid economy or provide basic health and education services to their citizens. Starting from an analysis of present and future economic, demographic, social and technological trends, Empowering Africa offers an in-depth assessment of the current status and future prospects of access to electricity in the African continent. The volume describes the main developments in the Africa's electricity sector, addressing the issue both from a regional and a thematic point of view, and attempting to define the key trends of a sector that will necessarily contribute to shape the continent's political, social and economic dynamics for the next decades.
Realized through the scientific cooperation between Enel Foundation, the Istituto Affari Internazionali (IAI) and the Policy Center for the New South.
Details

Bern [etc.], Peter Lang, 2019, 261 p.

Issue

1

ISBN/ISSN/DOI:

978-3-0343-3777-9; 978-3-0343-3793-9 (Pdf); 978-3-0343-3794-6 (e-Pub); 978-3-0343-3795-3 (Mobi); 10.3726/b15292
Foreword / Karim El Aynaoui, Carlo Papa and Nathalie Tocci, p. 11-12
Preface / Antonio Cammisecra, p. 13-18
1. Empowering Africa / Nicolò Sartori and Lorenzo Colantoni, p. 19-43
Infographic "The electrification challenge in Africa" / Enel Foundation, p. 45-49
2. Generating energy access / Helen Hoka, Nicolò Sartori and Lorenzo Colantoni, p. 51-79
3. Financing access to power in Africa / Simone Tagliapietra, p. 81-95
4. Energy in Eastern Africa / Izael Da Silva, p. 97-135
5. Power generation and energy access in Western Africa. Perspectives from WAPP countries / Yemi Oke, p. 137-168
6. Power generation and energy access in Southern Africa: a general overview / Agathe Maupin, p. 169- 198
7. North Africa. An energy bridge between the African and European Continents / Silvia Pariente-David and Houda Ben Jannet Allal, p. 199-231
8. The institutional framework / Richard Munang, p. 233-260
List of Contributors, p. 261