Challenges to NATO and Italy's Role: Trump, Brexit, Collective Defence and Neighborhood Stability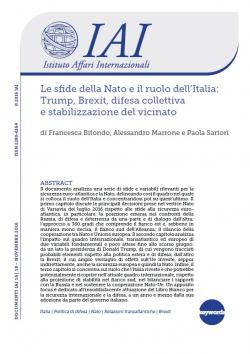 This paper analyses a range of variables and challenges particularly relevant to Euro-Atlantic security and NATO, with a specific focus on Italy's role in such a context. The first chapter summarises the main decisions taken at NATO's Warsaw Summit in July 2016, and in particular: NATO's posture towards Russia, characterised by defence and deterrence on the one hand, and dialogue on the other; the 360-degree-approach which applies to both the Eastern and Southern flanks – even if with less emphasis on the latter; and the re-launching of NATO-EU cooperation. The second chapter focuses on the impact of two main variables on the international, transatlantic and European context. First, Donald Trump presidency, with a specific focus on the possible elements of its future foreign and defence policy. Second, Brexit, that with its wide range of consequences on the EU as a whole will impact, even if indirectly, European security and, hence, NATO. The final chapter explores Italy's actual and potential role in the current international scenario with specific reference to projecting stability on the Southern flank, balancing relations between NATO and Russia and supporting EU-NATO cooperation. Furthermore, a specific focus is dedicated to the unsatisfying implementation of the Italian White Paper for International Security and Defence, one year and a half after its adoption by the Italian government.
Paper prepared within the framework of the research project "Defence Matters", with the support of NATO Public Diplomacy Division. Translated and updated version (January 2017) of "Le sfide della Nato ed il ruolo dell'Italia: Trump, Brexit, difesa collettiva e stabilizzazione del vicinato", published in November 2016.

iai1618e.pdf
Details

Roma, IAI, November 2016 (updated January 2017), 38 p.

In:


Issue

16|18E
1. The outcomes of the Warsaw Summit: a 360 degree approach
1.1 NATO-Russia relations: deterrence, defence and dialogue
1.2 The difficulty to "projecting stability" on the Southern flank
1.3 A re-launch of the EU-NATO strategic partnership
1.4 Investments in defence, cyber security and intelligence
2. New variables: Trump presidency and upcoming Brexit
2.1 The Trump presidency, Euro-Atlantic security and NATO
2.2 The impact of Brexit on Euro-Atlantic security and NATO
3. Italy's defence policy and NATO
3.1. The Italian equilibrium regarding NATO-Russia relations
3.2 Italy and the EU-NATO cooperation
3.3. The Italian view on stabilizing and cooperating in the Southern flank
3.4. The implementation of the Italian White Paper: an uphill climb