Approaches to STM across the world. The Current State of Play in Space Traffic Management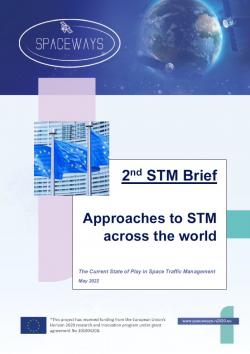 A main goal of Spaceways will be to characterise and understand the context of Space Traffic Management (STM), especially its international and domestic dimensions. The project focuses on an analysis of European capabilities and technology gaps and on a policy, legal and economic assessment of this domain, leading to recommendations and guidelines. This second Brief provides an overview of the initiatives in the field of STM at global level.

stm_brief_2.pdf
Details

Spaceways STM Briefs, No. 2 (May 2022), 5 p.
What is the current state of play in addressing STM?
International approaches to STM
International organisations: privileged venues for multilateral dialogue on STM
What are the implications for Europe and its Member States?