What NATO for What Threats? Warsaw and Beyond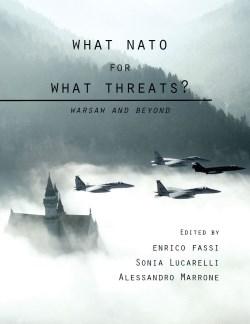 The relatively rapid transformation of the security environment in the past 15 years has seen NATO involved in what has become the keyword to effectiveness: adaptability. Throughout time this has taken different forms, but three have been its main avenues: a redefinition of the concept of security, the development of core tasks that have been added to collective defence (crisis management operations and cooperative security) and the Alliance's enlargement. All three venues have contributed to make NATO more apt to the changed security scenario, but each of them needs to be constantly assessed for its contribution to NATO's effectiveness as a security Alliance and integrated with a reflection on dynamics internal to the Alliance itself. The spirit of the fourth Academic Conference organised in Bertinoro on 4-6 October 2015, was to contribute to the reflection on NATO's adaptability with respect to security challenges (with a special attention to hybrid threats), its internal cohesion, its readiness, and cooperative security in particular with regards to partnerships.
Result of the forth academic conference organised by NATO Allied Command Transformation (ACT), University of Bologna and Istituto Affari Internazionali (IAI), Bertinoro, 4-6 October 2015.

what-nato-for-what-threats.pdf
What NATO for What Threats? An Introduction, Enrico Fassi, Sonia Lucarelli and Alessandro Marrone, p. 5-8

Plenary One
Roundtable on "Hybrid Threats: What NATO Should Stand Ready for?", Enrico Fassi, p. 9-11

Focus Area I. What persistence and transformation in the strategic cultures of NATO member states?
The More Things Change… A European Perspective on Persistence and Transformation in the Strategic Cultures of NATO Member States, Heiko Biehl, p. 13-24
Understanding the Public Security Discourse: An Attempt by the Evocs Project, Miloš Jovanović, p. 25-35
Working Group 1 Report, Francesco N. Moro, p. 36-40

Focus Area II. NATO Readiness: What military and political issues?
What Is NATO Ready for? Making the Case for 'Strategic Readiness', Olivier de France, p. 42-59
NATO's Readiness in the post-Crimea Security Environment: Political and Military Challenges, Margarita Šešelgytė, p. 60-75
Working Group 2 Report, Alessandro Marrone, p. 76-80

Focus Area III. NATO Partnership Policy: What instruments for what purposes?
Handle With Care: The Limits and Prospects of NATO Partnership Policy, Andrea Locatelli, p. 82-96
Forging the Future of NATO's Partnerships, Nicola Nasuti, Jeffrey Reynolds and Cristina Siserman, p. 97-112
Working Group 3 Report, Christian Mölling, p. 113-117

Plenary Two
Roundtable on "What Political Guidance for NATO?", Enrico Fassi, p. 118-121