Warfare and Geopolitics in Europe's Southern Neighbourhood: Implications for NATO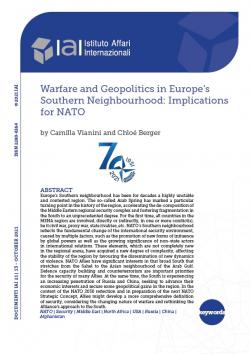 Europe's Southern neighbourhood has been for decades a highly unstable and contested region. The so-called Arab Spring has marked a particular turning point in the history of the region, accelerating the de-composition of the Middle Eastern regional security complex and fostering fragmentation in the South to an unprecedented degree. For the first time, all countries in the MENA region are involved, directly or indirectly, in one or more conflict(s), be it civil war, proxy war, state rivalries, etc. NATO's Southern neighbourhood reflects the fundamental change of the international security environment, caused by multiple factors, such as the promotion of new forms of influence by global powers as well as the growing significance of non-state actors in international relations. These elements, which are not completely new in the regional arena, have acquired a new degree of complexity, affecting the stability of the region by favouring the dissemination of new dynamics of violence. NATO Allies have significant interests in that broad South that stretches from the Sahel to the Asian neighbourhood of the Arab Gulf. Defence capacity building and counterterrorism are important priorities for the security of many Allies. At the same time, the South is experiencing an increasing penetration of Russia and China, seeking to advance their economic interests and secure some geopolitical gains in the region. In the context of the NATO 2030 reflection and in preparation of the next NATO Strategic Concept, Allies might develop a more comprehensive definition of security, considering the changing nature of warfare and rethinking the Alliance's approach to the South.
Report of the workshop "Warfare and Geopolitics in Europe's Southern Neighbourhood: Implications for NATO", organised on 1 July 2021 by IAI and NATO Defense College (NDC) in partnership with the Compagnia di San Paolo Foundation.

iai2113.pdf
Details

Rome, IAI, October 2021, 10 p.

In:


Issue

21|13
Introduction
1. Warfare and geopolitics: Regional trends and local dynamics
1.1 Non-state actors
1.2 China
1.3 Russia
2. Implications and adaptations for NATO and its partners in the South
2.1 A changing understanding of security
2.2 NATO's approach to the South: Limitations and implications
3. Conclusion: A further reflection in light of lessons from Afghanistan