Towards a European Global Strategy: Securing European Influence in a Changing World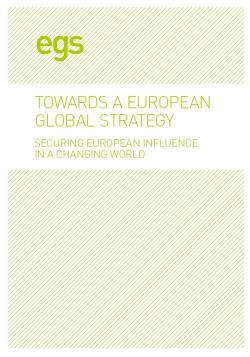 The principal aims of the European Union are to promote its shared values, peace and the wellbeing of its peoples. Achieving these aspirations depends heavily on developments beyond its borders. On-going transformations at the global, regional and European levels create opportunities as well as challenges for the Union and demand strategic thinking on an ambitious and assertive external agenda. The report on a European global strategy offers guidance on this long-term endeavour.
Report prepared by Istituto Affari Internazionali (IAI), Polish Institute of International Affairs (PISM), Elcano Royal Institute (RIE), and Swedish Institute of International Affairs (UI) in the framework of the European Global Strategy (EGS) project.

egs_report.pdf
Details

Stockholm, Swedish Institute of International Affairs, 28 May 2013, 22 p.
Executive Summary
Introduction
Values and Interests
Strategic Objectives
Instruments and Capabilities
Acknowledgments