Space, Sovereignty and European Security. Building European Capabilities in an Advanced Institutional Framework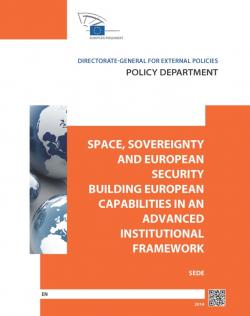 The study aims to offer a comprehensive analysis of the role of space-based capabilities in supporting the security and defence policies of the European Union and of its Member States. Moving from the description of the current and future space-based systems developed at the national, intergovernmental and European level, the study tries in first place to point out the contribution of these assets to the security initiatives undertaken in Europe. Second, it describes the roles of the actors and the functioning of the institutional framework through which these capabilities are developed and exploited for Europe's security purposes. Finally, it provides options regarding the development of space capabilities for European security which could be implemented under the current treaties and within the scope of the forthcoming Multiannual Financial Framework (MFF) of the Union.
Study prepared by the Istituto Affari Internazionali (IAI) at the request of the European Parliament's Subcommittee on Security and Defence.

SSES.pdf
Details

Brussels, European Parliament, 29 January 2014, 111 p. (Policy Department External Policies Study)

ISBN/ISSN/DOI:

978-92-823-5370-7
List of tables
List of acronyms
Executive Summary
Introduction
Part I. European Space Capabilities
1. An Independent Access to Space for Europe
   1.1 Contribution to European security
   1.2 Current launch capabilities
   1.3 Recent developments
   1.4 Challenges and perspectives
2. Earth Observation
   2.1 Contribution to European security
   2.2 National and cooperative systems
   2.3 GMES/Copernicus
   2.4 Recent developments
   2.5 Challenges and perspectives
3. Satellite Telecommunications
   3.1 Contribution to European security
   3.2 National systems
   3.3 Cooperation (bilateral and multilateral)
   3.4 Recent developments
   3.5 Challenges and perspectives
4. Navigation and Positioning
   4.1 Contribution to European security
   4.2 EGNOS
   4.3 Galileo
   4.4 Challenges and perspectives
5. ELINT
   5.1 Contribution to European security
   5.2 National capabilities
   5.3 Cooperation
   5.4 Challenges and perspectives
6. Space Situational Awareness
   6.1 Contribution to European security
   6.2 National capabilities
   6.3 Cooperation (bilateral and multilateral)
   6.4 Challenges and perspectives
7. Early Warning
   7.1 Contribution to European security
   7.2 National capabilities
   7.3 Challenges and perspectives
Part II. The European Institutional Framework
8. Lisbon Treaty: Relevant Elements on Space and Security
   8.1 The Lisbon Treaty and the different fields of application
   8.2 The EU-ESA Framework Agreement
9. Actors and Roles in Space Today as Related to Security
   9.1 The EC
   9.2 ESA
   9.3 EUSC
   9.4 GSA
   9.5 FRONTEX and EMSA
   9.6 EDA
   9.7 EEAS
   9.8 Member States
   9.9 Industry
10. Inter-Institutional Dialogue and Initiatives
   10.1 ESA-EDA Administrative Arrangement
   10.2 Structured dialogue on Space and Security
   10.3 European Framework Cooperation
11. Conclusions
   11.1 Final considerations
   11.2 Options
Bibliography
Annex I. European Space Capabilities
Annex II. Actors and Roles in Space Today as Related to Security