Silk Road Academic Connections: China–Italy Cooperation in Higher Education and Its Implications for the West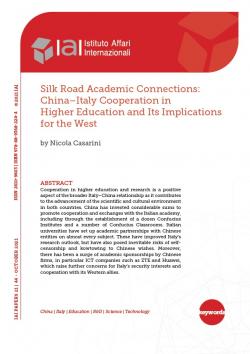 Cooperation in higher education and research is a positive aspect of the broader Italy–China relationship as it contributes to the advancement of the scientific and cultural environment in both countries. China has invested considerable sums to promote cooperation and exchanges with the Italian academy, including through the establishment of a dozen Confucius Institutes and a number of Confucius Classrooms. Italian universities have set up academic partnerships with Chinese entities on almost every subject. These have improved Italy's research outlook, but have also posed inevitable risks of self-censorship and kowtowing to Chinese wishes. Moreover, there has been a surge of academic sponsorships by Chinese firms, in particular ICT companies such as ZTE and Huawei, which raise further concerns for Italy's security interests and cooperation with its Western allies.
Paper prepared in the framework of the IAI project "When Italy Embraces the BRI".

iaip2144.pdf
Details

Rome, IAI, October 2021, 20 p.

In:


Issue

21|44

ISBN/ISSN/DOI:

978-88-9368-224-4 (en); 978-88-9368-232-9 (it)
Introduction
1. Italy–China cooperation in higher education and research
1.1 Italy's place in China's higher education and scientific research strategy
2. The Confucius Institutes in Italy
2.1 Backlash against the Confucius Institutes
2.2 Pushback against Chinese influence on campuses
3. The interplay of academia and business
4. S&T cooperation
Conclusion
References