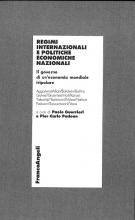 Il futuro dell'economia mondiale continua ad essere minacciato da incertezze e rischi crescenti, alimentati dai forti squilibri, reali e monetari, che si sono accumulati in questi anni nei rapporti tra i maggiori paesi ed aree economiche. È opinione diffusa che il riassorbimento di tali squilibri, senza compromettere le prospettive di crescita a medio termine dell'economia mondiale, necessità una capacità di governo a livello internazionale dei complessi legami di interdipendenza esistenti, e quindi un grado elevato di cooperazione tra i maggiori paesi. Ciò richiede di affrontare il problema più vasto e complesso della gestione delle relazioni economiche internazionali. I saggi presentati in questo volume si occupano dei diversi aspetti, politici, istituzionali ed al tempo stesso economici, della cooperazione internazionale, analizzando in profondità non solo le difficoltà che ne ostacolano lo sviluppo, ma anche le soluzioni da poter offrire ai meccanismi cooperativi in futuro.
Revised version of papers presented at the conference "Global and Domestic Factors in International Cooperation" organised in Trento on 3-4 April 1989 in the framework of the research project "Forum on International Economic Cooperation" conducted by the Istituto Affari Internazionali (IAI), the Harvard Center for International Affairs, the National Bureau of Economic Research (NBER) and the National Institute for Research Advancement (NIRA). Chapters 1 and 3-10 published also in English in The International Spectator, Vol. 24, No. 3-4 (July-December 1989).
Details:
Milano, Franco Angeli, May 1991, 293 p.
ISBN/ISSN/DOI:
88-204-6742-9 ; 978-88-204-6742-5
Introduzione, p. 7-9
1. Giochi a due livelli e aggiustamento strutturale: il caso italiano, Paolo Guerrieri e Pier Carlo Padoan, p. 11-38
2. Obiettivi, preferenze e giochi: verso una teoria della contrattazione internazionale, Vinod K. Aggarwal e Pierre Allan, p. 39-70
3. Fonti di cooperazione nazionali ed internazionali: la politica petrolifera negli anni '40 e '70, Helen Milner, p. 71-97
4. Struttura istituzionale e orizzonte temporale in un semplice modello di economia politica: l'effetto Lowi, H. Keith Hall e Douglas Nelson, p. 98-145
5 . Le fondamenta microeconomiche della "Economia politica", Robert E. Baldwin, p. 146-173
6. Ostacoli al coordinamento macroeconomico in Europa, Andrea Boltho, p. 174-194
7. L'economia politica dell'integrazione europea: dall'eurosclerosi all'euro-corporativismo, Loukas T. Katseli, p. 195-214
8. Fattori interni ed internazionali nell'aggiustamento dell'economia del Giappone, Masaru Yoshitomi, p. 215-236
9. I fattori politici che determinano la politica economica estera del Giappone, Taizo Yakushiji, p. 237-250
10. Il coordinamento tripolare delle politiche economiche: problemi dell'Europa, polo a più paesi, Giorgio Gomel, Fabrizio Saccomanni e Stefano Vona, p. 251-293