Pier Carlo Padoan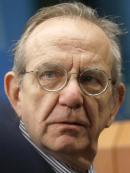 Position
Vice President
Biography
Academic career
Degree in Economics, University of Rome; Professor of Economics, University La Sapienza of Rome (retired).
He has held various academic positions in Italian and foreign universities, including at the University of Rome, College of Europe (Bruges and Warsaw), Université Libre de Bruxelles, University of Urbino, Universidad de la Plata, Chulalongkorn University and University of Tokyo.
He has published widely in international academic journals and is the author and editor of several books.
Professional career
1998-2001 Economic adviser to the Prime Ministers Massimo D'Alema and Giuliano Amato
2001-2005 Executive Director International Monetary Fund
2006 Director Fondazione Italianieuropei , a policy think-tank focusing on economic and social issues
2007-2014 Deputy Secretary General and (2009) Chief Economist , OECD
February 2014-May 2018 Italian Minister of Economics and Finance
March 2018 Member of the Italian Parliament