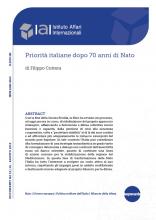 Con la fine della Guerra Fredda, la Nato ha avviato un processo, ad oggi ancora in corso, di ridefinizione del proprio approccio strategico, affiancando a deterrenza e difesa collettiva nuove funzioni e capacità, dalla gestione di crisi alla sicurezza cooperativa, volte a "proiettare stabilità" al di là dei suoi confini e ad affrontare più adeguatamente le minacce emergenti del mondo post-bipolare. In tale contesto l'Italia può contribuire alla formulazione di una strategia transatlantica in grado tanto di coniugare deterrenza e dialogo nei confronti dell'assertività russa sul fianco orientale, quanto di costituire una linea di azione comune per la stabilizzazione della regione del Mediterraneo. In questa fase di trasformazione della Nato l'Italia ha tutto l'interesse a svolgere un ruolo attivo al suo interno, rispettando gli impegni presi in ambito multilaterale e destinando risorse adeguate al proprio bilancio per la difesa.
Report of the conference "70 anni di Nato: priorità italiane per il futuro dell'Alleanza Atlantica", organized in Rome on 13 June 2019 by the Istituto Affari Internazionali (IAI) in partnership with NATO Public Diplomacy Division, and features Formiche as mediapartner.
Details:
Rome, IAI, August 2019, 12 p.
Introduzione
1. L'adattamento della Nato alle minacce emergenti: verso una strategia di proiezione di stabilità
2. La diversa percezione della minaccia: una sfida interna alla Nato
3. Il fianco orientale e la minaccia tradizionale: fra difesa atlantica e sicurezza paneuropea
4. Il fianco meridionale e le minacce emergenti: fra stabilizzazione e sicurezza cooperativa
5. L'azione italiana in ambito Nato: contributi e limiti del settore della difesa
Programma