Observatory on European Defence, March 2012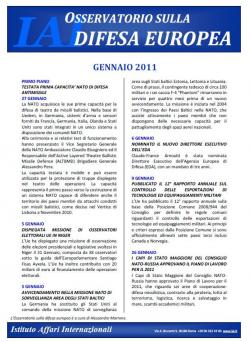 IN THE SPOTLIGHT : MARCH 23
THE EU COUNCIL ACTIVATES THE EU OPERATIONS CENTRE IN THE HORN OF AFRICA
The EU Council has activated the EU Operations Centre in the Horn of Africa, the first since the inception of the CSDP. The Centre has the task of coordinating the three ongoing missions in the region: EU NAVFOR ATALANTA to counter piracy in the Gulf of Aden; EUTM Somalia whose mission is the training of Somali security forces and the civilian mission whose task is the Regional Maritime Capacity Building – RMCB. The Operations Centre intervenes to help the interactions between the ongoing missions and Brussels-based authorities of the UE. Its mandate will last for two years, under the command of Captain Ad van der Linde (Holland), and its activities and resources are going to be revised every six months. EU NAVFOR mandate has been extended until December 2014, with a budget of 14,9 million Euro, and its operational area is now wider as it reaches the Somali coasts in order to facilitate the cooperation with the Transitional Federal Government and the other Somali entities against piracy.
MARCH 16
ADOPTED FRAMEWORK FOR COOPERATION AGREEMENT BETWEEN EDA AND SWITZERLAND
A Framework for Cooperation already approved by the EU Council last November, has been signed by the European Defence Agency and Switzerland. Such agreement allows the Swiss participation in the programmes and projects of EDA. The Agreement focuses on the cooperation in Research & Technology and Armaments. The cooperation will cover areas such as cyber security, Remotely piloted aircraft (RPA), collection of information and protection against Improvised Explosive Devices (IED).
MARCH 23
THE EU COUNCIL STRENGTHENS SANCTIONS AGAINST IRAN, BELARUS AND SYRIA
The EU Council has strengthened and extended until April 2013 the restrictive measures in Iran, as a consequence of the increasing violations of human rights. Seventeen individuals have been included in the list of those affected by the assets freeze and the visa ban. Moreover, exports of items and software which can be used for tapping by Iranian authorities are prohibited. The Council has also strengthened restrictive measures against Belarus, by adding 12 individuals to those subjected to the assets freeze ant the visa ban, and by extending the assets freeze to other 29 Belarusian citizens. Similar measures have been adopted against Syria, in particular by imposing the visa ban on 12 individuals and the assets freeze on 14 other.
MARCH 23
THE EU COUNCIL APPROVES THE CRISIS MANAGEMENT CONCEPT FOR THE SAHEL
Within the Framework of the European Strategy for Security and Development in the Sahel, the EU Council has adopted the Crisis Management Concept for a CSDP Civilian Mission on Consulting, Assisting and Training in the Sahel, focused on Niger. The goal is to help security and police forces enhancing their interoperability and their law enforcement capacity in the fight against terrorism and organized crime, in respect of the Rule of law and human rights. The council has also suggested the adoption of an operational planning.

od_march_12.pdf
Details

Roma, Istituto affari internazionali, 2012, 2p.

Issue

12/03