Observatory on European Defence, June 2011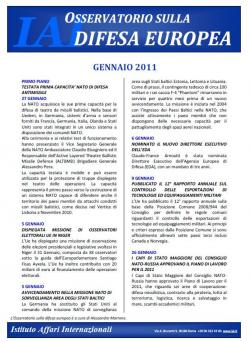 IN THE SPOTLIGHT : June 20, 2011
NEW ESA – EDA COOPERATION AGREEMENT
European Defence Agency (Eda) and European Space Agency (Esa) signed an Administrative Agreement on Cooperation. The agreement aims to establish a structured relationship between the two agencies, through a coordination of their activities, especially regarding space assets and the development of European capabilities required for crisis management and Common Security and Defence Policy (CSDP). The two agencies are already cooperating in fields such as ISR (Intelligence, Surveillance, Reconnaissance), Unmanned Aerial Systems (UAS) satellite communications and other space technologies. The agreement was previously approved by the Council of the European Union and the Council of Esa.
June 1-30, 2011
NATO EXTENDS OPERATION "UNIFIED PROTECTOR" IN LYBIA FOR 90 DAYS
NATO Defence Ministers and other countries contributing to "Unified Protector" operation has decided to extend the operations in Libya until September 25, 2011. On June 4 the "Unified Protector" commander, general Charles Bouchard, announced that some attack helicopters were deployed for the first time. They hit vehicles, equipments and Gheddafi's loyal forces. During the month the attacks have continued against armed forces, military facilities and command and control centres of Tripoli's government.
June 6 – 10, 2011
FIRST JOINT NATO-RUSSIA EXERCISE ON AIR COUNTERTERRORISM
The counterterrorism exercise "Vigilant Skies 2011" took place. It was the first joint exercise between Russia and NATO whose assets were provided by Poland and Turkey. In particular the exercise have shown the efficiency of the NATO-Russia Council Cooperative Airspace Initiative, one of the main sectors of cooperation among the two partners. The aim of the exercise was to avoid a terrorist attack carried out by civilian airplanes, such as the 9/11 event, by information sharing on movements in NATO and Russian airspace, as well as by coordinating the interception efforts of the hijacked airplane.
June 7, 2011
EU ESTABLISHES A TASK FORCE FOR THE SOUTHERN MEDITERRANEAN
The High Representative of the European Union for Foreign Affairs and Security Policy Catherine Ashton has established a new task force for the Southern Mediterranean area. This unit will gather officers from the European External Action Service (EEAS), the European Commission, the European Investment Bank, the European Bank for Construction and Development and other financial Institutions. The task force have to support the financial development of the civil society, the economic recovery and the democratization progress of the southern side of the Mediterranean. This initiative follows the approval, on May 25, of the new European Neighbourhood Policy, and the political and economic assistance towards Egypt and Tunisia, already provided on a bilateral basis.

od_june_11.pdf
Details

Roma, Istituto affari internazionali, 2011, 2p.

Issue

11/06