Observatory on European defence, July-August 2012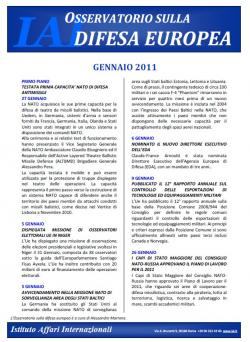 IN THE SPOTLIGHT : JULY 16
THE EU LAUNCHES TWO NEW MISSIONS UNDER CSDP
The EU has approved two new missions under the CSDP. The first is EUCAP Nestor and it aims at strengthening the naval capacities of the countries in the Horn of Africa and in the Gulf of Aden (especially Djibouti, Kenya, Seychelles and Somalia). It is part of a comprehensive approach to the question of piracy in the Gulf of Aden and in the Indian Ocean, together with two others ongoing operations, EUTM Somalia and EUNAVFOR Atalanta. The mission, whose budget for the first year is of 22,8 million euros, has an initial mandate of 2 years and a staff of 175 individuals. The second mission, EUCAP Sahel Niger, will start in August under the lead of Spanish Colonel Paco Espinoza. The aim of EUCAP Sahel Niger is of improving the capacities of security forces in Niger to fight against terrorism and organized crime in an efficient and coordinated way, in order to strengthen political stability, security, governance and social cohesion in the country and in the region of the Sahel. The initial budget is 8,7 million euros, and the mission will last 2 years with an international (50 individuals) as well as local (30) staff at the HQ in Niamey (Niger), with the liason officers in Bamako (Mali) and Noukachott (Mauritania).
JULY 3
PAKISTAN RE-OPENS SUPPLY LINES TO ISAF
After 7 months Pakistan has decided to re-open NATO supply lines towards Afghanistan. The Pakistani Government closed the lines because of an accident in which 24 Pakistani citizens were killed, caused by a NATO bombing.
JULY 3
NEW HEAD OF EUBAM RAFAH MISSION
The EU Political and Security Committee has appointed Captain Davide Palmigiani as Head of the EU Mission in assistance to the borders on the Rafah crossing ( EU BAM Rafah) ad interim for the period from 1 July 2012 to 30 September 2012.
JULY 10
EUJUST LEX IRAQ MANADATE EXTENDED
The EU Council has extended the mandate of EUJUST LEX Iraq until 31 December 2013.
JULY 27
COOOPERATION AGREEMENT SIGNED BETWEEN EDA AND OCCAR
European Defence Agency and The Organisation for Joint Armament Cooperation (organisation conjointe de coopération en matière d'armement – OCCAR) have signed an agreement to intensify the European cooperation in defence. The two parties will share information both on the programmes and on procurement projects. The programmes and projects activated by EDA will therefore also be managed by OCCAR.
JULY 30
A NEW COMMANDER OF THE NATO ALLIED COMMAND TRANSFORMATION (ACT)
The Head of the French General Navy Staff, General Jean Paul Palomeros, has replaced General Stéphane Abrial as new commander of the NATO Allied Command Transformation (ACT).
AUGUST 6
NEW APPOINTMENT FOR EUNAVFOR SOMALIA
REAR ADMIRAL Enrico Credendino has been appointed new Commander of Military Operations of EUNAVFOR Somalia, EU Mission aiming to identify, prevent and repress piracy along the coasts of the Horn of Africa.

od_july_august_12.pdf
Details

Roma, Istituto affari internazionali, 2012, 2p.

Issue

12/07-08