Observatory on European Defence, January 2012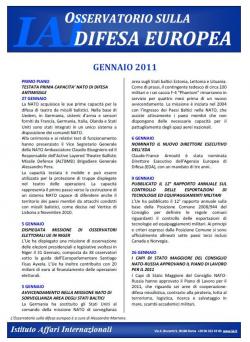 IN THE SPOTLIGHT : JANUARY 23
THE EU FOREIGN AFFAIRS COUNCIL APPROVES THE ESTABLISHEMENT OF AN OPERATIONS CENTRE IN THE HORN OF AFRICA
The EU Foreign Affairs Council has decided to establish an Operations Centre in the Horn of Africa, to strengthen the coordination between the two ongoing missions in the region EUNAVFOR Atalanta and EUTM Somalia, and the new mission Regional Maritime Capacity Building (RMCB), decided in December 2011. The Operations Centre aims at directly supporting the planning and management of RMCB ; at supporting EUTM Somalia and acting as liaison with EUNAVFOR Atalanta ; at strengthening the civil-military cooperation among the alreadydeployed missions and Brussels-based structures.
JANUARY 10
NEW APPOINTMENTS AT THE DIRECTORATES OF EUROPEAN DEFENCE AGENCY (EDA)
The High Representative of the EU for Foreign Affairs and Head of the European Defence Agency (EDA) Catherine Ashton, has appointed the Italian Giampaolo Lillo as Armaments Director, and has renewed the mandate of the French Christian Bréant as Director for Research and Technology.
JANUARY 23
THE EU COUNCIL FURTHER STRENGHTENS RESTRICTIVE MEASURES AGAINTS SYRIA
The EU Council has adopted new restrictive measures against Syria by adding 8 entities to those affected by asset freeze together with other 22 individuals also affected by the visa ban. In total, 108 representatives of the Syrian regime are now subjected to the visa ban and the asset freeze, together with other 38 entities.
JANUARY 23
THE EU COUNCIL ADOPTS NEW RESTRICTIVE MEASURES AGAINTS IRAN
The EU Foreign Affairs Council has adopted new restrictive measures against Iran: in particular such measures imply a gradual embargo on oil imports from Iran to the EU; sanctions on the financial sector also including the Iranian Central Bank, limited exports of dual-use items and technology from the EU towards Iran.

od_january_12.pdf