Observatory on European Defence, February 2012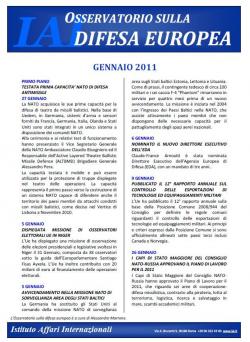 IN THE SPOTLIGHT : FEBRUARY 27-28
THE EU COUNCIL FURTHER STRENGTHENS RESTRICTIVE MEASURES AGAINTS SYRIA AND BELARUS
The EU Council has adopted new restrictive measures against Syria, responsible of growing violence and internal repression: the trade of gold, precious and diamonds with public bodies and the Syrian Central Bank are banned; Syrian flights transporting goods cannot enter the EU with the exception of mixed flights (transporting both people and goods); the assets freeze continues for the Syrian Central Bank within the UE, even if trade is permitted with restricted severe conditions; and seven Ministers of the Syrian regime are now subjected to the assets freeze and the visa ban. The EU Foreign Affairs Council has also strengthened its restrictive measures against those responsible for the repression of internal opposition in Belarus. Other 21 individuals are now affected by assets freeze and visa ban, together with the previous 200 individuals. Moreover, the EU Council has adopted measures to freeze the holdings of three societies, and exports of arms and equipments which can be used for the internal repression towards Belarus are now prohibited.
FEBRUARY 8-10
EU AND TURKEY LAUNCH A NEW COUNTERTERRORISM WORKING GROUP IN THE HORN OF AFRICA
The EU and Turkey have launched the new Working Group of the Global Counter Terrorism Forum (GCTF) in the region of the Horn of Africa, chaired by Turkey and the US. 38 Delegations of the international community and 11 representatives of the region took part in the inaugural Conference in Dar es Salaam in Tanzania. The GCTF was launched in September 2011 with the goal of enhancing cooperation against terrorism. To date, 5 Working groups have been established: Sahel, Horn of Africa, Asian South-East, criminal justice and rule of law, fight against extremism. Experts gather with their respective counterparts from key-countries in different areas to share experience, best practices and strategies.
FEBRUARY 27
EU FOREIGN AFFAIRS COUNCIL EXTENDS THE MANDATE OF EUNAVFOR MISSION ATALANTA
The EU Foreign Affairs Council has extended the mandate of EUNAVFOR Atalanta until December 2014. The aim of the mission is to protect the convoys of the World Food Programme and of the Mission of the African Union in Somalia, as well as to prevent, deter and counter piracy offshore the Somali coasts.

od_february_12.pdf
Details

Roma, Istituto affari internazionali, 2012, 1p.

Issue

12/02