Observatory on European defence, December 2010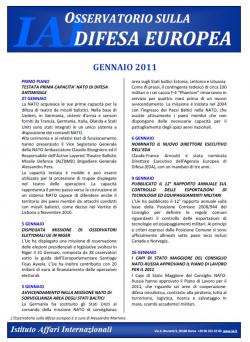 IN THE SPOTLIGHT: December 14-22, 2010
HIGH REPRESENTATIVE CATHERINE ASHTON APPOINTS NEW OFFICIALS IN EU COUNCIL AND IN EEAS
EU High Representative Catherine Ashton has appointed a number senior officials: twelve permanent Presidents of EU Council working groups and four Executive Directors of EEAS (European External Action Service). The first group includes the Italian Fabio della Piazza has been appointed permanent President of the working group on the export of conventional weapons. Among the latter, the Italian Agostino Miozzo has been appointed Executive Director of the EEAS Crisis response and Operational team. The High Representative has also nominated the Finnish Ilkka Salmi Director of the European Situation Centre (SITCEN), responsible for maintaining contacts with intelligence agencies of the European Countries and to advise the Council with information and reports on different security issues.
December 9, 2010
EDA BUDGET PASSED
The EU Foreign Affairs Council, in the format of Defense Ministers, has approved the guidelines for EDA (European Defense Agency) in 2011, its work plan and budget of 30.5 million euro.
December 15, 2010
NATO DEPUTY SECRETARY GENERAL MANDATE EXTENDED FOR A YEAR
NATO Secretary General Anders Fogh Rasmussen has extended for one year, until September 2012, the mandate of Amb. Claudio Bisogniero, NATO Deputy Secretary General. Rasmussen has also appointed US Amb. Alexander Veshbow as Bisogniero's successor.
December 13-22, 2010
EU COUNCIL RENEWES SANCTIONS AGAINST NORTH KOREA AND TAKES RESTRICTIVE MEASURES AGAINST COTE D'IVOIRE REBELS
On 13 December EU Council has imposed restrictive measures against a list of representatives who oppose the peace process in Cote d'Ivoire and don not acknowledge the authority of Alassane Quattara as democratically elected president. In a row the Council imposed a ban on issuing entry visas against a broader list of citizens of Cote d'Ivoire.
On December 22 the Council has also expanded the list of North Korea citizens and entities subjected to o the ban of entry in EU and the freezing of the financial assets. In addition, the decision limits commercial and financial activities that could help the weapon program of North Korea.

od_december_10.pdf
Details

Roma, Istituto affari internazionali, 2010, 1p.

Issue

10/12