Observatory on European Defence, April 2012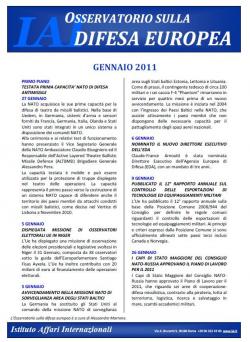 IN THE SPOTLIGHT : APRIL 10
NATO TESTS MISSILE DEFENCE IN RAMSTEIN HEADQUARTER
NATO has carried out two successful tests on defence system on 4th and 5th April. The system, developed following the Lisbon Summit in 2010, has the goal of protecting the population, the territory and the armed forces from possible attacks by suborbital vehicles. The command and control system, based in the Headquarter of Ramstein, is composed by NATO-integrated structures which are linked to defense systems located in Germany, the Netherlands, and Mediterranean region, together with other NATO and US centres in Europe and North America. The simulations have tested the interactions between several structures in sharing information coming from satellites, from land and maritime platform sensors and from headquarters, in order to monitor possible missiles attacks against the European territory. Those are the first tests carried out at Ramstein as the NATO Headquarter of missile defence system.
APRIL 18
EU AND NEW ZEALEND FURTHER STRENGTHEN COOPERATION IN CRISIS MANAGEMENT
The High Representative of the EU for Foreign Policy Catherine Ashton and the Minister for Foreign Affairs of New Zeland Murray McCully have signed an agreement on New Zealand's participation in EU crisis Management Operations. The agreement allows New Zealand – which took part in the civilian mission EUPOL Afghanistan and in the military operation EUFOR Althea in Bosnia-Herzegovina – to participate in missions and operations within the CSDP. Such an enhanced cooperation is part of a wider context as the EU and New Zealand have committed themselves to negotiate a bilateral agreement on the issue.
APRIL 23
TH EU FURTHER STRENGTHENS SANCTIONS AGAINST SYRIA
Following the recent events in Syria, the EU Council has decided to strengthen the sanctions against the Syrian Regime, by adopting restrictive measures on exports of goods and items which may be used for civil repression. Moreover, exports of luxury products towards Syria are prohibited.

od_april_12.pdf
Details

Roma, Istituto affari internazionali, 2012, 1p.

Issue

12/04