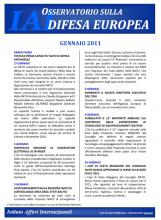 April 1-30, 2011
NATO PERSISTS IN THE OPERATION "UNIFIED PROTECTOR" IN LIBYA
NATO operation "Unified Protector" in Libya has continued through April. The mission was officially launched according to UN Resolution 1973/2011. The operation includes: the imposition of a naval embargo on the supply of weaponry and mercenaries; maintaining a no-fly zone over the Libyan air space for every airplane apart from humanitarian flights; military actions which aim to protect Libyan civilians and their populated areas from attacks and threats of attacks. On April 20 NATO outnumbered 3.000 air sorties.
April 1, 2011
EU AUTHORIZES A MILITARY MISSION TO SUPPORT THE HUMANITARIAN OPERATIONS IN LIBYA
The EU Foreign Affairs Council has decided the preparation of a European military mission in support of the humanitarian assistance operations in Libya, called "EUFOR Libya", to be implemented only on UN request. The mission's operational headquarter is established in Rome, under the command of the Italian admiral Claudio Gaudiosi. The task is to allow the evacuation of the refugees and the assistance to the activities of the humanitarian institutions and organizations. The decision has established the legal framework of the forthcoming operation, enabling the start of the planning.
April 7-29, 2011
EU AMENDS THE RESTRICTIVE MEASURES AGAINST COTE D'IVOIRE
On April 7, the EU Foreign Affairs Council adopted further restrictive measures against Ivory Coast, including the prohibition to buy stocks, bonds and loans for the unlawful government of Laurent Gbagbo. According to the UN Resolution 1975/2011, the EU has enlarged the list of persons subject to visa ban and to the freeze of economic assets as considered responsible of hampering the peace process in Cote D'Ivoire.
On April, 29, the Council has also decided to remove six companies (five banks and an oil company) of Cote d'Ivoire from the list of entities affected by the freeze of assets.
Details:
Roma, Istituto affari internazionali, 2011, 1p.