Naval Defence Cooperation in the EU: Potential and Hurdles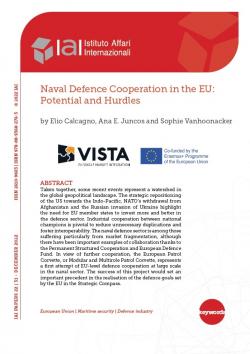 Taken together, some recent events represent a watershed in the global geopolitical landscape. The strategic repositioning of the US towards the Indo-Pacific, NATO's withdrawal from Afghanistan and the Russian invasion of Ukraine highlight the need for EU member states to invest more and better in the defence sector. Industrial cooperation between national champions is pivotal to reduce unnecessary duplications and foster interoperability. The naval defence sector is among those suffering particularly from market fragmentation, although there have been important examples of collaboration thanks to the Permanent Structured Cooperation and European Defence Fund. In view of further cooperation, the European Patrol Corvette, or Modular and Multirole Patrol Corvette, represents a first attempt of EU-level defence cooperation at large scale in the naval sector. The success of this project would set an important precedent in the realisation of the defence goals set by the EU in the Strategic Compass.
Paper produced in the context of the project "Revitalising the Study of EU Single Market Integration in a Turbulent Age – VISTA", supported by the Jean Monnet Network.

iaip2231.pdf
Details

Rome, IAI, December 2022, 12 p.

In:


Issue

22|31

ISBN/ISSN/DOI:

978-88-9368-276-3
1. The maritime domain: The main stage for great-power competition?
2. The EU's approach to security and defence in the maritime domain
3. Past cooperation in the EU naval defence industry
4. The European Patrol Corvette: A game changer in the EU naval sector?
Conclusion
References