National expectations regarding the European Defence Fund: The Italian Perspective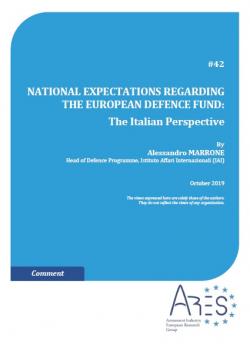 Italy's expectations on EDF are deeply-rooted in the institutional, military and industrial establishment, and are enhanced by the fact the pro-EU Partito Democratico has replaced sovereignist Lega within the renewed Italian government led by Giuseppe Conte. In particular, EDF is expected to drive more joint procurement among a large pool of member states, to enhance European defence industry's competitiveness and EU strategic autonomy. The Fund's governance should take into account the intergovernmental nature of defence domain, and thus involve the EU Military Committee and EDA, connect with PESCO, and be coherent with NATO Defence Planning Process. Because of Italy's defence industrial cooperation with both France and UK, EDF is expected to be open to London despite of Brexit. Finally, the work programme priorities should prioritize the satisfaction of armed forces' needs, particularly on components and technologies for major systems not affordable on a national basis.
Details

in ARES Group Comments, No. 42 (October 2019), 6 p.