Moving Forward EU-India Relations. The Significance of the Security Dialogues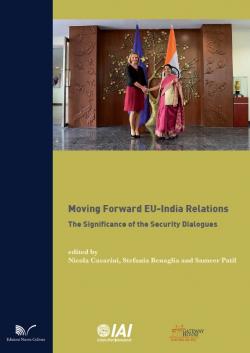 Relations between the European Union (EU) and India have been growing in quantity and quality in the last two decades. Alongside the economic dimension, the political and security elements of the relationship have emerged as the most promising area for further collaboration between the two sides. This volume brings together analysis and recommendations on EU-India security relations in the fields of: (i) maritime security and freedom of navigation; (ii) cyber security and data protection; (iii) space policy and satellite navigation; (iv) defence cooperation. The chapters have been written by a select pan-European and Indian group of experts tasked by the Rome-based Istituto Affari Internazionali (IAI) and the Mumbai-based Gateway House (GH) in the framework of the EU-India Think Tank Twinning Initiative – a public diplomacy project aimed at connecting research institutions in Europe and India funded by the EU. The book provides the reader with original research and innovative insights into how to move forward EU-India relations. It will be essential reading for scholars and policy makers interested in the subject.
Output of the project "Moving Forward the EU-India Security Dialogue: Traditional and Emerging Issues" led by the Istituto Affari Internazionali (IAI) in partnership with Gateway House: Indian Council on Global Relations (GH). The project is part of the EU-India Think Tank Twinning Initiative funded by the European Union. Collection of papers previously published by IAI (ch. 1, 4-5, 8-9) and Gateway House (ch. 2-3, 6-7).

gh-iai.pdf
Abstracts, p. 9-14
Introduction, p. 15-20

1. Maritime Security and Freedom of Navigation from the South China Sea and Indian Ocean to the Mediterranean: Potential and Limits of EU-India Cooperation, by Nicola Casarini, p. 21-38
1.1 Europe's maritime strategy
1.2 India's maritime strategy
1.3 China's new Maritime Silk Road: Implications for the EU and India
1.4 European and Indian perspectives on evolving security dynamics in the South China Sea
1.5 The maritime balance of power in the Indo-Pacific
1.6 Old and new multilateral security frameworks

2. Maritime Security and Freedom of Navigation from the South China Sea and Indian Ocean to the Mediterranean, by Vice Admiral Anil Chopra, p. 39-47
2.1 Maritime security
2.2 The Indo-Pacific
2.3 The EU and the Indo-Pacific
2.4 India's maritime perspective
2.5 China and the Indian Ocean Region
2.6 India-EU maritime cooperation

3. India-EU Cooperation on Cyber Security and Data Protection, by Sameer Patil, Purvaja Modak, Kunal Kulkarni and Aditya Phatak, p. 47-76
3.1 Multiple cyber security challenges
3.1.1 Cyber threats from non-state actors
3.2 Opportunities for India-EU cyber security cooperation
3.3 Impact of EU's dual-use regime on cyber security cooperation
3.4 Data protection issues impinging on India-EU ties
3.5 Policy recommendations for India-EU cyber security cooperation
Conclusion

4. EU-India Cooperation on Cyber Issues: Towards Pragmatic Idealism?, by Patryk Pawlak, p. 77-89
4.1 The EU and cyber diplomacy: A forward-looking player?
4.2 Incredible India: More than a slogan
4.3 India's cyber policies: A swing state?
4.3.1 Multi-stakeholder approach and accountability
4.3.2 Sovereignty in cyberspace
4.3.3 Protection of human rights online
4.4 Understanding the limits of EU-India cooperation
4.4.1 Guilty by association
4.4.2 Principles-policy gap
4.5 A "pragmatic idealism" through network diplomacy

5. EU-India Cooperation on Space and Security, by Isabelle Sourbès-Verger, p. 91-108
5.1 The prominent role of cooperation in building the space capabilities of India and Europe
5.2 The use of satellites to enhance national and international security
5.3 Space security challenges, a new topic for the EU-India partnership
5.4 Opportunities and challenges for EU-India cooperation
5.5 Policy recommendations
Conclusion

6. Potential and Challenges of India-EU Space Cooperation, by Chaitanya Giri, p. 109-118
6.1 India and Europe's cooperation-driven space programme
6.2 India's cooperation on the Galileo programme
6.3 On EU's diplomatic measures for addressing space security challenges
6.4 Why India-EU space cooperation is nascent
6.5 The scope of India-EU cooperation in monitoring space
Concluding remarks

7. India-EU Defence Cooperation: The Role of Industry, by Sameer Patil, Purvaja Modak, Kunal Kulkarni and Aditya Phatak, p. 119-148
7.1 Strategic partnership, little convergence
7.2 Stronger relations between New Delhi and European capitals
7.3 India's military modernisation
7.4 Opportunities in India's defence market
7.5 Potential minefields and challenges
7.6 Policy recommendations for deepening India-EU defence cooperation
Conclusion

8. EU-India Defence Cooperation: A European Perspective, by Stefania Benaglia and Alessandro R. Ungaro, p. 149-165
8.1 An overview of the European defence market and industry
8.2 Most prominent areas of possible EDTIB cooperation with India
8.3 What could facilitate industrial cooperation?
8.4 How can an enhanced EU-India security dialogue facilitate European defence companies' investments in India?
8.4.1 Boosting coordination amongst EU Member States
8.4.2 Enhanced EU political engagement with India
Conclusions

9. EU-India: Starting a More Adventurous Conversation, by Shada Islam, p. 167-172
9.1 The new conversation
9.2 Going forward, three important drivers
9.3 The challenge ahead