La sicurezza dell'Italia e la minaccia nucleare, biologica, chimica e radiologica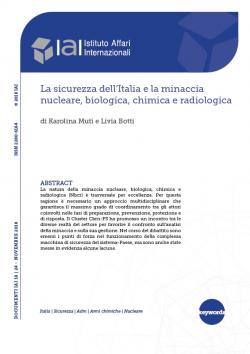 The nature of the chemical, biological, radiological and nuclear (CBRN) threat is transversal par excellence. Therefore, a multidisciplinary approach is needed to guarantee the highest level of coordination between the actors involved in the processes of preparation, prevention, protection and response to this danger. The Cluster CBRN-P3 has promoted a meeting among the different realities operating in this field, in order to foster the debate about the CBRN threat and its management. During the debate, both strengths and weaknesses in the functioning of the national security machine have been highlighted.
Report of the conference "Il sistema-Italia per la protezione dai rischi e minacce Nbcr" organized in Rome on 16 October 2018 by the Cluster CBRN-P3 in cooperation with the Istituto Affari Internazionali (IAI) and ENEA.

iai1824.pdf
Details

Rome, IAI, November 2018, 11 p.

In:


Issue

18|24
Introduzione
Tavola rotonda I: La minaccia Nbcr
Tavola rotonda II: Gestione della minaccia Nbcr
Conclusioni