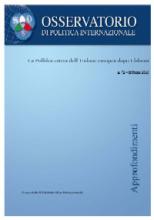 In materia di politica estera, sicurezza e difesa, il Trattato di Lisbona, entrato in vigore il primo dicembre 2009, riprende la gran parte delle innovazioni già previste dal Trattato costituzionale firmato nel 2004. Benché le modalità decisionali della Politica estera e di sicurezza comune (PESC) rimangano distinte da quelle generali e non siano state trasferite nuove competenze in materia dagli stati membri all'Unione europea, tali innovazioni sono varie ed importanti. Da questo studio emerge come l'attuazione del Trattato di Lisbona abbia portato ad una parziale centralizzazione, o meglio, ad una "Brussellizzazione" della politica estera europea. Il fatto che le decisioni vengano coordinate sempre più a Bruxelles piuttosto che nelle capitali nazionali non ha comunque determinato alcuna forma di maggiore integrazione nella politica estera, che anzi appare "ri-nazionalizzata" rispetto ai tempi della Convenzione in cui le riforme qui analizzate furono concepite. Il presente Approfondimento esaminerà le principali innovazioni apportate dal Trattato di Lisbona nell'ambito della politica estera dell'Unione europea, sia nella loro previsione normativa, sia nella loro concreta attuazione. Dopo aver analizzato le principali linee di sviluppo politico-istituzionali, ci si soffermerà sull'esame di due politiche specifiche, la Politica di sicurezza e difesa comune (Psdc) e la Politica europea di vicinato (Pev). Infine, l'approfondimento offrirà alcune considerazioni relative alle dinamiche di Brussellizzazione e ri-nazionalizzazione che stanno caratterizzando la politica estera dell'Unione europea nell'attuale fase.
Paper produced within the framework of the project International Relations Observatory .
Details:
Roma, Camera dei deputati, 2013, 22 p.
Executive summary
Introduzione
1. Le istituzioni e gli organi della PESC
1.1 Il Presidente del Consiglio europeo e l'Alto Rappresentante per gli affari esteri e la politica di sicurezza
1.2 Il Servizio europeo per l'azione esterna (SEAE)
1.3 Le Delegazioni dell'Unione europea presso paesi terzi ed organizzazioni internazionali
1.4 La Commissione europea
1.5 Il Parlamento europeo
2. Due casi studio post-Lisbona
2.1 La Politica di sicurezza e difesa comune (PSDC) nel Trattato di Lisbona
2.2 La Politica europea di vicinato (PEV)
Conclusioni: Brussellizzazione o ri-nazionalizzazione?