Il mantenimento e l'ammodernamento dello Strumento Militare come motore del Sistema Paese: evoluzione del modello di interazione tra la Difesa e l'Industria Nazionale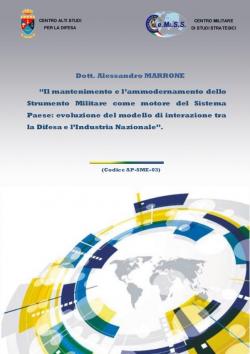 This study analyses, in a forward-looking perspective, the current interaction between the Italian military and the national aerospace, defence and security industry. It has a two-fold goal. First, to identify and discuss the main strengths and weaknesses of the Italian reality, bearing in mind that the development of the military is also a driver for the whole economy. On that basis, the study proposes a set of policy recommendations to deal with the aforementioned weaknesses, with a focus on the various aspects of defence industrial policy. In light of the importance of a whole-of-country approach, the analysis deliberately considers three categories of actors, constituting the three pillars of the Italian model: military, industrial and political ones.
Details

Rome, Centro Militare di Studi Strategici, November 2020, 68 p.