Green Deal Watch, No. 1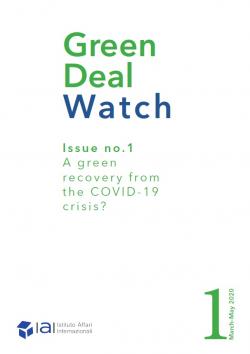 This is the first issue of the Green Deal Watch, a quarterly report produced by the Istituto Affari Internazionali (IAI) with the support of Edison. This publication aims at monitoring and analysing the initiatives launched by the European Commission and discussed by the EU institutions and Member States under the umbrella of the Green Deal.
This Green Deal Watch aims at providing continuity to the analysis produced in the 16 issues of the Energy Union Watch, the quarterly publication IAI dedicated to the Juncker Commission, which covered the whole five years of activities. This Green Deal Watch will cover the new, greater range of topics anticipated by Commission President Ursula von der Leyen to achieve climate neutrality by 2050.
Compared to the Energy Union Watch, this report maintains a similar structure, adding a few elements of novelty: while we will continue to present a general analytical Foreword at the beginning of each publication, the in-depth monitoring of Green Deal activities will be divided according to a new breakdown, with the five dimensions of the Energy Union now structured around a set of four, designed to match the guidelines so far expressed by the von der Leyen Commission. These will be: Driving the Green Deal; Greening industry; Supporting the transformation; and Strengthening security and diplomacy.

gdw_1.pdf
Details

Rome, IAI, July 2020, 29 p.

In:


Issue

1
Foreword: A green recovery from the COVID-19 crisis?
Analysis: four dimensions
Dimension 1. Driving the Green Deal
Dimension 2. Greening Industry
Dimension 3. Supporting the Transformation
Dimension 4. Strengthening Security and Diplomacy
In-Depth: The EGD through the lens of Generation Z
Appendix: Roadmap