Global Outlook 2017: rapporto finale. Crescita, commercio e incertezza politica. Le sfide per la governance nel contesto europeo e transatlantico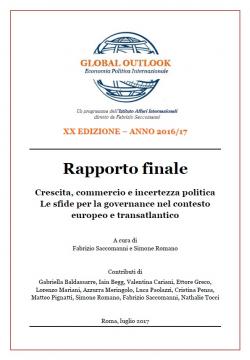 The 20th edition of the IAI Global Outlook Final Report is the result of the activity carried over in the Global Outlook framework between October 2016 and June 2017. These months have been characterized by key political and economic events on a global scale – from the election of Donald Trump to G7 summit under Italian Presidency, from the onset of the Brexit negotiations to the triumph of Macron in the French presidential election. In light of these developments, the Final Report aims at providing an updated assessment of the governing dynamics on the three economic scenarios: global, European and Italian. On top of this, the Report comprises a further analysis of three specific geographical scenarios considered to be of particular relevance for the Italian enterprises and their international activities: China, Egypt and Turkey.
Presented at the conference "Governance per la crescita: sfide europee e transatlantiche", Rome, 6 July 2017.

go-2017_rapporto.pdf
Details

Roma, IAI, 6 July 2017, 70 p.
Executive Summary, p. 2-5

Parte I. Outlook macroeconomico globale
I.1. Congiuntura positiva e debolezze strutturali, di Simone Romano, p. 7-13
I.2. Governance macroeconomica globale: il G7 a presidenza italiana, di Fabrizio Saccomanni, p. 14-21

Parte II. L'Europa
II.1. Sfide e priorità strategiche dell'Unione europea, di Ettore Greco, p. 23-30
II.2. Brexit dopo le elezioni dell'8 giugno: e ora?, di Iain Begg, p. 31-35

Parte III. L'Italia
III.1. L'internazionalizzazione delle imprese italiane: più export e di maggiore qualità, di Luca Paolazzi, Cristina Pensa e Matteo Pignatti, p. 37-44
III.2. Gli investimenti italiani all'estero, di Valentina Cariani e Gabriella Baldassarre, p. 45-51

Parte IV. Focus geografici
IV.1. Il futuro della Turchia in Europa: come procedere?, di Nathalie Tocci, p. 53-58
IV.2. Egitto tra futuro e precarietà, di Azzurra Meringolo, p. 59-63
IV.3. La Cina tra riforme interne e nuove proiezioni internazionali, di Lorenzo Mariani, p. 64-70