The Geopolitics of Space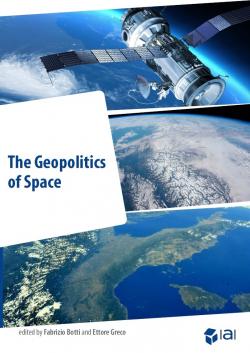 IAI, in collaboration with Intesa Sanpaolo, organised a series of three workshops titled "The Geo-Finance of Space" with the goal of investigating how the space race is impacting geopolitics, the world economy and the international legal regime. In a multipolar world, the international dynamics of "great power competition" on Earth has far-reaching reverberations in outer space. As space has become an integral part of the civil and military infrastructure, the need to protect the space domain and the assets within it has come to the fore. There has also been a marked trend towards commercialisation of the space realm. Companies have ventured into a domain previously only accessible to powerful states. This has contributed to making outer space increasingly competitive and congested. A series of technological innovations coupled with the emergence of "New Space" have enabled space companies to explore new markets and business models. Furthermore, the development of the Internet of Things (IoT) and the growth of non-terrestrial networks – notably, in Low-Earth Orbit – is expected to drive the growth in demand for space-based data in the years to come. To frame the legal regime for the management of space beyond the aerial zone, several treaties, pacts, secondary legislation, and soft laws have been developed. Despite those efforts, important grey areas of space regulation exist. In the next future, global actors are likely to increasingly compete over key aspects of space regulation, such as utilisation and appropriation of resources in space and the codification of rules of the road and responsible behaviour in orbit.
Publication produced in the framework of the IAI-Intesa Sanpaolo Partnership.

9788893682923.pdf
Details

Rome, IAI, June 2023, 65 p.

ISBN/ISSN/DOI:

978-88-9368-292-3
Preface / Ettore Greco, p. 4-6

1. A Star-spangled Screen for the Projection of Great Power Competition? / Juliana Suess, p. 7-17
1. Space – Not your usual domain
1.1 Not all space powers were created equal
1.2 Space is big, expensive and increasingly congested
2. Space is a blank canvas
2.1 Great power competition in space
2.2 The fight is in the courtroom now
Conclusion

2. The Global Space Economy: Definition, Evolution and Forecasts / Jules Varma and Rodolfo Zontini, p. 18-38
1. Defining the global space economy
1.1 Why defining the space economy has become a question of increased relevance
1.2 Understanding the value of the space economy and services for public policy objectives
1.3 Providing a definition for the space economy
1.4 Challenges in defining the global space economy and the way forward
2. Evolution and estimations of the global space economy
2.1 Historical evolution of space economy estimations
2.2 Breakdown of the global space economy
2.3 Private space investments and their role in the global space economy
3. The future of the global space economy
3.1 Existing studies and forecasts
3.2 Origins of growth and difference in assessment
3.3 Limits to assessments of future growth
3.4 The future space economy: Enabling future space architecture and digital solutions
3.5 The great upstream potential and the rise of "space-for-space"
Conclusion

3. The Regulation of Outer Space Activities / Giulia Pavesi, p. 39-62
1. A changing environment: Competitive, congested and contested space
2. Global space governance at a crossroads
3. The utilisation and appropriation of resources in space
3.1 The relationship between the principle of non-appropriation and the utilisation and appropriation of space resources
3.1.1 An international framework for the utilisation of space resources?
3.1.2 The Artemis Accords: Constructive legal ambiguity as a political choice
4. The codification of the "rules of the road": STM and responsible behaviours in orbit
4.1 From regional to international management: A multi-step approach to STM design
5. Responsible behaviour in outer space
5.1 From a technology ban to responsible behaviour in outer space
Concluding remarks

Abbreviations, p. 63-64
Authors, p. 65