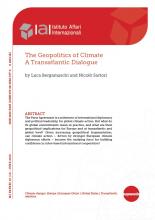 The Paris Agreement is a milestone of international diplomacy and political leadership for global climate action. But what do its global commitments mean in practice, and what are their geopolitical implications for Europe and at transatlantic and global level? Given increasing geopolitical fragmentation, can climate action – driven by stronger European climate diplomacy efforts – become the unifying force for building confidence in rules-based international cooperation?
Paper presented at the international conference "The Geopolitics of Climate – A Transatlantic Dialogue", organized in Rome on 27 June 2018 by IAI in cooperation with the Belfer Center for Science and International Affairs, Harvard Kennedy School of Government.
Details:
Rome, IAI, June 2018, 15 p.
Highlights
Introduction
1. Europe
1.1 EU climate policy: the internal transition
1.2 Connecting internal action to external climate policies
2. The United States
2.1 Trump's U-turn: long-lasting trend or just a pause in US climate leadership?
2.2 Climate change in transatlantic relations: is there space for meaningful cooperation?
3. Global
3.1 The emergence of new climate actors: opportunities of cooperation or drivers of competition
3.2 Climate security: global risks and opportunities for increasing stability
Conclusion
References