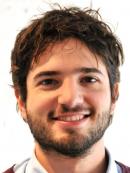 Luca Bergamaschi works as Associate fellow in the Energy, Climate and Resource programme at IAI. He provides analyses and stakeholder engagement in the field of climate change and the energy transition, with a specific focus on the geopolitics of climate, European policies and the climate risk impacts on security and the economy. Luca is also Senior Associate at E3G. Before joining IAI, Luca was responsible for the energy and climate negotiations of the 2017 G7 Italian Presidency in the Italian Prime Minister's Office. Previously, Luca developed his expertise on international and European climate and energy policy working for E3G in Berlin and London. Luca has a Masters of Science in Energy Policy from the University of Exeter, UK; a Bachelor of Science in Economics and Political Science from the University of Cologne, Germany; and a Bachelor of Science in Industrial Engineering and Management from the University of Bologna, Italy.

Luca Bergamaschi
Rome, IAI, December 2018, 13 p.

Luca Bergamaschi, Nicolò Sartori
Rome, IAI, June 2018, 15 p.
Luca Bergamaschi, Margherita Bianchi, Mariagrazia Midulla
Energy Union Choices, 30 May 2018, 18 p.
In:
Other papers/articles