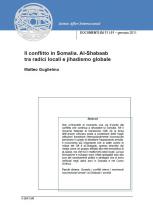 La trasformazione delle forze armate dei maggiori paesi europei, Italia inclusa, comporta anche la digitalizzazione dei mezzi e dei sistemi per sfruttare i vantaggi della tecnologia informatica, specialmente di fronte a minacce asimmetriche. In particolare l'Esercito sta compiendo uno sforzo significativo per mettere in rete migliaia di equipaggiamenti e decine di migliaia di soldati, anche tramite adeguati sistemi di comunicazione, comando e controllo. Per l'Italia si tratta di una sfida importante sia per quanto riguarda il Ministero della Difesa che gestisce il procurement dell'insieme di sistemi, organizzato in "spire" successive nell'arco di un ventennio, sia per la controparte industriale chiamata a innovare tanto le piattaforme tecnologiche quanto il modus operandi nella fornitura di prodotti e servizi. Il fattore umano rimane essenziale nel misurarsi con le nuove tecnologie, ad esempio quanto a formazione ed addestramento del personale militare, così come l'adeguamento delle procedure e tattiche per sfruttare il vantaggio tecnologico.
Proceedings of the conference "La trasformazione delle Forze Armate: il programma Forza NEC", presenting Quaderni IAI 2, Rome, 21 November 2011. Produced within the framework of the project "Forza NEC programme and Europe".
Details:
Roma, Istituto Affari Internazionali, 2012, 25 p.
1. Introduzione / Prof. Michele Nones
2. Intervento / Gen. Giuseppe Valotto
3. Intervento / Ing. Massimo Piva
4. Intervento / Gen. Mario Marioli
5. Intervento / Dr. Giovanni Soccodato
6. Intervento / Amm. Cristiano Bettini