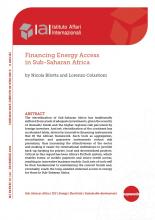 The electrification of Sub-Saharan Africa has traditionally suffered from a lack of adequate investments, given the scarcity of domestic funds and the higher regional risk perceived by foreign investors. And yet, electrification of the continent has accelerated lately, driven by innovative financing instruments that fit the African framework. Such tools as aggregation, securitization and guarantee instruments reduce risk premiums, thus increasing the attractiveness of the sector and making it easier for international institutions to provide back-up funding for private, local and decentralized projects. Critical in this regard has been Africa's FinTech system, which enables forms of mobile payment and micro-credit access, resulting in innovative business models. Such sets of tools will be then fundamental to maintaining the current trends and, eventually, reach the long-awaited universal access to energy for those in Sub-Saharan Africa.
Paper prepared in the framework of the IAI-Eni Strategic Partnership, December 2018.
Details:
Rome, IAI, December 2018, 20 p.
1. The future of Africa's power
1.1 Introduction
1.2 An estimate of Africa's energy financial needs
1.3 The financial troubles of the Sub-Saharan energy sector
2. Financial tools to power Africa
2.1 Promoting a more appealing SSA energy sector
2.2 Private and public sector tools
2.3 Consumers' empowerment and the role of FinTech
Conclusions and policy recommendations
References