Europe's Evolving Order and the War in Ukraine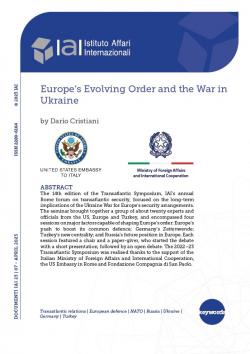 The 14th edition of the Transatlantic Symposium, IAI's annual Rome forum on transatlantic security, focused on the long-term implications of the Ukraine War for Europe's security arrangements. The seminar brought together a group of about twenty experts and officials from the US, Europe and Turkey, and encompassed four sessions on major factors capable of shaping Europe's order: Europe's push to boost its common defence; Germany's Zeitenwende; Turkey's new centrality; and Russia's future position in Europe. Each session featured a chair and a paper-giver, who started the debate with a short presentation, followed by an open debate. The 2022–23 Transatlantic Symposium was realised thanks to the support of the Italian Ministry of Foreign Affairs and International Cooperation, the US Embassy in Rome and Fondazione Compagnia di San Paolo.
Report of the IAI Transatlantic Symposium 2022–23 entitled "The Ukraine War and Europe's Evolving Security Order", held in Rome on 13 February 2023.

iai2307.pdf
Details

Rome, IAI, April 2023, 18 p.

In:


Issue

23|07
1. European defence and transatlantic relations
1.1 The focus
1.2 The debate
2. The German Zeitenwende and its impact on transatlantic relations
2.1 The focus
2.2 The debate
2.3 The European views on Germany's shifting approach
3. Turkey and NATO: A complicated, necessary relationship
3.1 The focus
3.2 The debate
4. Russia's position in Europe's future order
4.1 The focus
4.2 The debate
4.3 The debate in Washington on the Russian war in Ukraine
4.4 The debate in Europe
4.5 Russia and the spheres of influence
4.6 Is Russia post-1991 transition over?
Programme