European Defence Fund: prospettive future della cooperazione europea nella difesa. Implicazioni per l'industria nazionale nell'European Defence Technological & Industrial Base (EDTIB)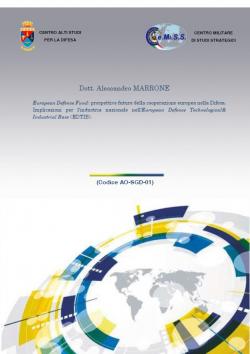 This study aims to reach two intertwined goals. The first one is to analyse the characteristics of the European Defence Fund (EDF), including its preparatory initiatives in 2017-2020, and in particular the political dynamics shaping its design and future implementation. On the basis of such analysis, the second objective is to identify the possible effects on the European defence industry, outline future scenarios and implications for Italy, by formulating the related policy recommendations for Rome.
Details

Rome, Centro militare di studi strategici, 2019, 76 p.
Sommario
Abstract
1. I primi passi del European Defence Fund (EDF) nel 2017-2020
1. La Preparatory Action on Defence Research (PADR): il debutto dell'UE nella ricerca militare
2. Lo European Defence Industrial Development Programme (EDIDP): il primo sostegno alle attività di sviluppo
3. PADR ed EDIDP come testbed del EDF 2021-2027
2. L'impostazione del EDF nel 2021-2027
1. Obiettivi e finanziamenti
2. Requisiti per la partecipazione
3. Gli obiettivi politici di commissione e stati membri
1. La visione politica della Commissione Europea
2. Le posizioni dei principali Paesi UE
4. Gli effetti del EDF sull'EDTIB
1. Efficientamento e integrazione della EDTIB, comunalità ed economie di scala
2. Catalizzatore di salti generazionali, specializzazione e concentrazione
3. L'impatto del EDF ed il motore franco-tedesco
4. Dinamismo e trasformazione del EDTIB
5. I futuri scenari EDF e l'Italia
1. La posizione italiana: vaso di coccio tra vasi di ferro
2. Primo scenario: "EDTIB 4.0"
2. Secondo scenario: "EU Defence & New Tech"
4. Terzo scenario EDF: "Fortezza Europa"
5. Quarto scenario: "Status Quo Plus"
6. L'azione italiana per il best case scenario
Nota sul Ce.Mi.S.S. e nota sull'autore