EU-India Defence Cooperation: A European Perspective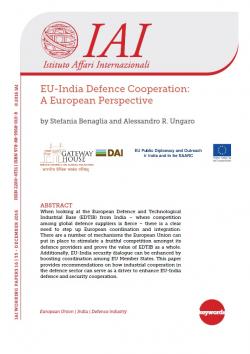 When looking at the European Defence and Technological Industrial Base (EDTIB) from India – where competition among global defence suppliers is fierce – there is a clear need to step up European coordination and integration. There are a number of mechanisms the European Union can put in place to stimulate a fruitful competition amongst its defence providers and prove the value of EDTIB as a whole. Additionally, EU-India security dialogue can be enhanced by boosting coordination among EU Member States. This paper provides recommendations on how industrial cooperation in the defence sector can serve as a driver to enhance EU-India defence and security cooperation.
Paper presented at the conference "Moving Forward the EU-India Security Dialogue: Traditional and Emerging Issues" held in Rome on 21 November 2016 within the framework of the project bearing the same name and led by the Istituto Affari Internazionali (IAI) in partnership with Gateway House: Indian Council on Global Relations (GH). The project is part of the EU-India Think Tank Twinning Initiative funded by the European Union.

iaiwp1635.pdf
Details

Roma, IAI, December 2016, 17 p.

Issue

16|35

ISBN/ISSN/DOI:

978-88-9368-015-8
Introduction
1. An overview of the European defence market and industry
2. Most prominent areas of possible EDTIB cooperation with India
3. What could facilitate industrial cooperation?
4. How can an enhanced EU-India security dialogue facilitate European defence companies' investments in India?
4.1 Boosting coordination amongst EU Member States
4.2 Enhanced EU political engagement with India
Conclusions
References