Development Finance in Challenging Times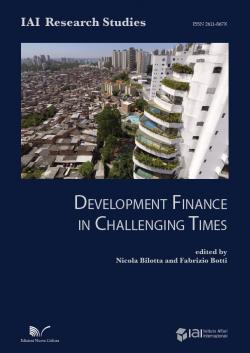 This book collects contributions from international leading experts from academia and multilateral development banks on the opportunities and challenges for development finance in a post-pandemic world. Despite multilateralism reached its low point in 2020 with increasing tensions between major global powers and deglobalisation trends, the global scale of the coronavirus outbreak made clear the intrinsically transnational nature of all the major global challenges. In this context, the authors explore three potential key areas of development policies that are likely to become increasingly crucial over the coming years: the private-sector contribution to the achievement of the SDGs; climate finance; and prospects and policies for low-income countries and fragile states.
This book has been realized thanks to the partnership between IAI and Intesa Sanpaolo.

iairs_4.pdf
Details

Rome, Nuova Cultura, May 2021, 110 p. : ill.

Issue

4

ISBN/ISSN/DOI:

978-88-3365-360-0
List of Contributors, p. 7
List of Abbreviations, p. 9-11
Foreword, by Lorenzo Kamel, p. 13-14

Introduction, by Nicola Bilotta and Fabrizio Botti, p. 15-20
1. Infrastructure finance and private-sector contribution to the achievement of the SDGs
2. Climate finance and energy
3. Prospects and policies for low-income countries (LICs) and fragile states

1. Development Finance Must Tackle Climate Change and Support a Just Transition, by Mattia Romani, Russell Bishop and Francesca Foglia, p. 21-42
1. Tackling climate change in a just way
2. The role of DFIs in scaling up climate action and supporting a just transition
Conclusions
References

2. Defining and Implementing Policy Targets Together: Two Concrete Examples (WBIF and SDGs), by Massimo Cingolani, p. 43-74
1. International coordination in uncertain policy environments
2. The Western Balkans Investment Framework: A regional instrument blending loans and grants from different donors
3. Coordination in pursuing SDGs: Concessionality
for climate projects in the private sector
Conclusion
Appendix
References

3. Development Fund in Fragile States: The Role of Institutions, by Alessia Isopi, p. 75-93
Introduction
1. The role of institutions for countries' development
2. Institutions (and lack of) in fragile states
3. Private sector in fragile states
Conclusion
References

4. ADB's Work in Fragile and Conflict-Affected Situations: Bringing Afghanistan Center Stage, by Melanie Ullrich and Sayed Masood Alam, p. 95-110
Introduction
1. ADB's work in FCAS
2. ADB's operational priorities in FCA
3. ADB and Afghanistan: Laying a foundation for future growth
4. The way forward
References