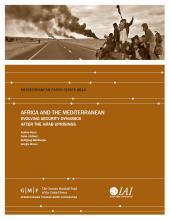 This study takes stock of the current security dynamics across the Southern Mediterranean and African Sahel since the advent of the Arab uprisings. In so doing, it widens the scope of analysis from a purely North African focus to a more in-depth understanding of the profound links connecting the Mediterranean, Africa, and the wider Arab world. By focusing on three specific components - the African Sahel region, post-Gaddafi Libya, and Egypt's African policy under the Muslim Brotherhood - the study sheds light on the deeply intertwined nature of the security threats that have arisen across this area and the impossibility of decoupling events occurring in the Maghreb from those taking place further south in the African Sahel region.
Paper produced within the framework of the IAI-GMF strategic partnership.
Details:
Washington, The German Marshall Fund of the United States, February 2014, vi, 34 p.
Foreword, by Andrea Dessì
Security Redux
The African Sahel
Post-Gaddafi Libya
Egypt's African Policy under the Muslim Brotherhood
Challenging Regional Rivalries, Fostering Socio-economic Development
1. The Sahelian Crisis and the Arab Spring, by Dario Cristiani
The Sahel: A Space of Transition
From Benghazi to Gao: The Arab Spring and Regional Instability
The Sahel after the French-led Intervention in Mali
The Sahel and the Maghreb: Between Crisis and Interdependence
Transatlantic Partnership and the Sahelian Crisis
Conclusion
2. Last Exit Sirte. Libya's Fragile Security Climate in the Aftermath of Civil War and Intervention, by Wolfgang Mühlberger
Introduction
Gaddafi's Era Security: Anarchy Controlled
Security Implications of Upheaval, Civil War, and R2P-Intervention: A Crumbling House of Cards
Post-conflict Transformation: Overcoming a Catch-22
Anarchy Supreme? Avoiding a Failed State Scenario
Assessment and Recommendations for the Transatlantic Community
3. Troubled Waters: Egypt's African Policy from the Islamists to the Military, by Giorgio Musso
Introduction
Brothers, not Twins
The Third Wheel: South Sudan
Troubled Waters
Egypt's African Policy: Which Comeback?
Between the Ayatollahs and the Emirs
Conclusions and Policy Recommendations