Women, Peace and Security in the Mediterranean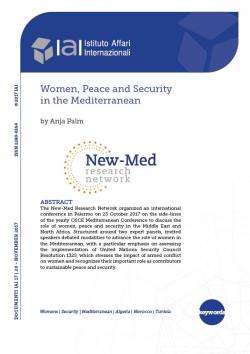 The New-Med Research Network organized an international conference in Palermo on 23 October 2017 on the side-lines of the yearly OSCE Mediterranean Conference to discuss the role of women, peace and security in the Middle East and North Africa. Structured around two expert panels, invited speakers debated modalities to advance the role of women in the Mediterranean, with a particular emphasis on assessing the implementation of United Nations Security Council Resolution 1325, which stresses the impact of armed conflict on women and recognizes their important role as contributors to sustainable peace and security.
Report of the international conference "Women, Peace and Security: A Gender Perspective on the Future of the MENA Region" held in Palermo on 23 October 2017 and organized within the framework of the New-Med Research Network.

iai1720.pdf
Details

Roma, IAI, November 2017, 17 p.

In:


Issue

17|20
Introduction
Session I: Security in the Mediterranean: Opportunities and Challenges for Enhancing the Role of Women
Session II: Women, Peace and Security in the Mediterranean: Assessing the Implementation of UNSCR 1325 and Related Resolutions
Concluding remarks
Programme